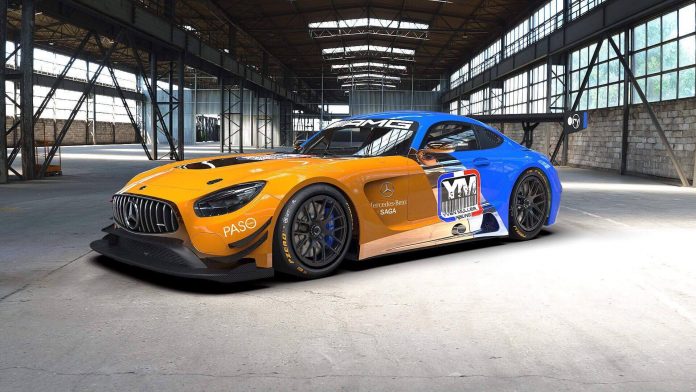 Involved in LMP3 competition since two years, the Yvan Muller Racing diversifies his activities in 2018 with a commitment of two Mercedes-AMG GT4 in the French GT Championship.
The structure of WTCC's 4 times World Champion is preparing to tackle a new challenge in 2018. For the first time, it will take part in a GT category, in partnership with PASO Traiteur, a long-time partner of Yvan Muller Racing, and with the collaboration of the French distributor Mercedes-Benz SAGA.
The French GT Championship, also labeled GT4 European Series Southern Cup, had a great popularity since it has been launched, and a great level of performance. In 2018, the level promises to be even higher in the discipline, with the arrival of new models, including the Mercedes-AMG GT4 that will make its debut next year in the discipline.
The names of the four drivers who will compose the two crews of Yvan Muller Racing in the French GT Championship in 2018 will be announced soon.
The other YMR programs for 2018 will also be detailed in the coming weeks.
Yvan Muller: "At the end of each season, I evaluate all the options as to the direction to take with Yvan Muller Racing. After two years of LMP3, the question to switch to LMP2 in 2018, but we finally, in addition to our LMP3 program,decided to take a different option by launching our first GT program, with our partner PASO Traiteur, but for Yvan Muller Racing is obviously a new challenge, to be in such varied disciplines can only be a great asset to the team, and we look forward being in the first race at Nogaro".
Tugdual Rabreau (PASO Traiteur): "We had already the opportunity to have a taste of the GT4 last year with a Porsche Cayman GT4 Porsche Motorsport Challenge, and the idea was to take it to the next level. We talked about it with Yvan Muller, with whom we have already shared a lot in recent seasons. The GT4 championship is a very attractive championship and the GT's flagship discipline in France."