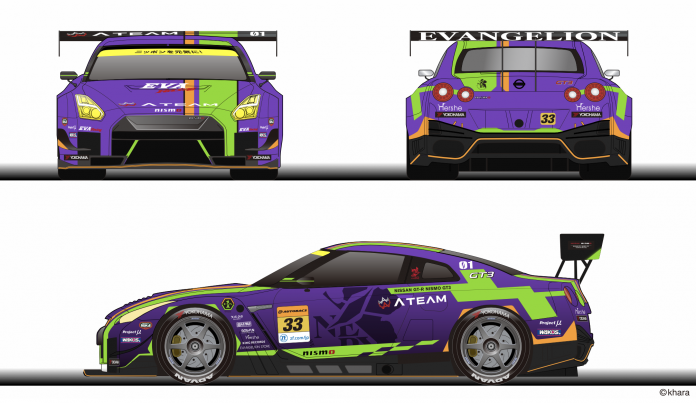 A new chapter of Hong Kong motorsports starts today with the announcement of X WORKS competing in 2019 Super GT Series in partnership with Nismo and Evangelion Racing (the official racing team of famous Japanese mecha anime film series "Rebuild of Evangelion") .X WORKS will be the first ever China Hong Kong team competing in this famous and renown top level series.
Super GT, originally titled as the Japan GT Championship, is a grand touring car racing series which started in 1993. After 25 years, Super GT is one of the most competitive GT championships. With over 400.000 annual spectators and 200.000 online viewers per race, the numbers speak for themselves.
Following the entry in Super GT and the partnership with Nismo, X WORKS announced their partnership with Evangelion Racing today. The X WORKS GT-R entered underrace number #33 will be named Evangelion Unit-01 and colored in the signature purple and green livery.
"We are very happy to be selected to join the Championship. It was always a dream to participate in the Super GT and this year, the partnership with EVANGELION and NISMO seemed to us as a perfect combination." said Marchy Lee, team principal and driver.He continued "The Super GT Series is Asia's highest level of motorsports competition and worldwide famous and recognized. To be here as the first China Hong KongTeam is a big honor. We proved to ourselves in Dubai 24h in 2018, that we can achieve a great result as a Hong Kong Team. Stepping up in 2019, we are very keen to push ourselves to new limits. I would like to thank all our partners, friends, other supporters and fans. Without you, this wouldn't be possible."
Shaun Thong, second driveron the Evangelion Unit-01 added, "I always admired Super GTs atmosphere andits wide variety of race cars. It's my pleasure to be part of the championship and it's a big step forward for my career. It's a whole new challenge which I am looking forward to be racing on the famous Japanese circuits"