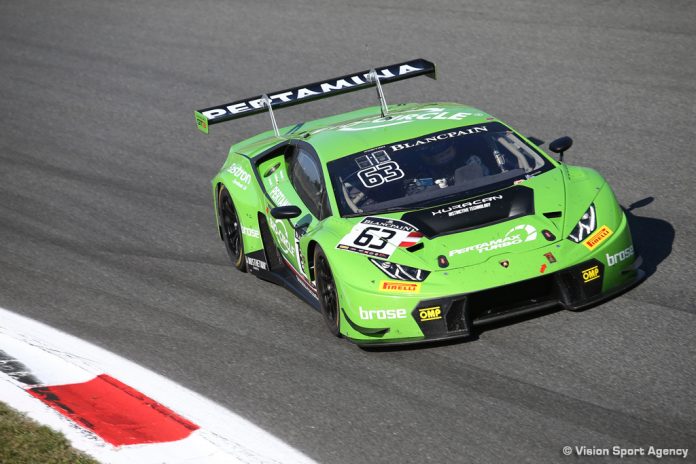 Finally, everything worked out perfectly for the GRT Grasser Racing Team, finally the Austrian squad received the well deserved reward for all the hard work of the last weeks and months: At the first race of the 2017 Blancpain GT Endurance Series at the traditional circuit of Monza/Italy, Mirko Bortolotti, Andrea Caldarelli and Christian Engelhart in the Lamborghini Huracán number 63 were able to celebrate a glorious victory.
Bortolotti had put the car on P5 in qualifying, "but there we were focussing on preserving the tyres. So, we knew we would have a really good chance in the race," his teammate Caldarelli stated afterwards. And all the optimism proved to be well based: Soon after the re-start of the race which had to be red flagged due to a huge crash in the first corner, Bortolotti climbed up to second place, always staying in touch with the leading Ferrari. "Then our pitstop went exactly according to plan, so Andrea was able to get back to the track in the lead", team principal Gottfried Grasser happily praised his crew. The Italian, a Lamborghini factory driver as well as his two teammates, managed to increase his lead up to about 25 seconds, so that Christian Engelhart could start his final stint with a comfortable advantage and in the end brought the win home safely.
"Winning your home race at Monza is a dream come true," Engelhart was ever so happy, "We as a team really got out everything possible. With a rather risky tyre strategy, great pitstops and a very good set up in the end we delivered the perfect race. Achieving this at the start of the new season, just after winning last year´s final race, makes me very proud. Now we are focussing folly motivated at the rest of the season." For the German driver, it was only his second Blancpain GT Endurance race at all: "I watched this series for quite a long time before I was able to make my debut last year last year at Nürburgring. To be now really part of it, to be able to work with this team and this drivers is a dream for me."
Andrea Caldarelli was also over the moon: "An incredible result. Thanks to Lamborghini Squadra Corse and the Grasser Racing Team for the great support. Everybody did a fantastic job. It was my maiden Blancpain GT Series race and I knew the level was really high, but I wasn't expecting it being high like this. I didn't run in qualifying so I couldn't push 100% during the race, but from the pitwall I was told that my gap was increasing, so I just drove my own pace." Mirko Bortolotti emphasized the special meaning of this success for the future: "It is great to start the season with such an important win at Monza. We did everything right this weekend and could maximize the result. We'll work hard to be even stronger from now on."
Gottfried Grasser dedicated the victory to his whole team. "The guys are doing a mega job, the pitstops were perfect and the race was going absolutely fantastic, without any mistake. That´s why thin incredibly important win belongs to them, to these guys working day and night for these results. Especially now, during these really hart times, where we had two totally damaged cars first at Misano and now again in Monza, they always find the motivation to rebuilt a new car from scratch, which is immediately competitive. That´s really admirable. So, a very special Thank You to the people who build the basis for such a success!"
Having to completely write off car number 19, which Norbert Siedler had put even on P2 in qualifying left Grasser ever so angry: Start driver Ezequiel Companc had been pushed off the track by Bentley driver Guy Smith, who tried to take the lead with a very harsh action. Ending up on the grass Companc had no chance at all, spun and helplessly flew back into the field where he was hit by a few other cars – at the end 16 cars got involved into the accident and the race had to be red-flagged. "What happened there at the start for me is just not acceptable any more. In my opinion a driver who causes such a collision should be banned for a few races. I don´t want to judge what he is doing with his own life, but to risk the life of others in such a stupid way con not be tolerated. What a pity for Ezequiel, Norbert and Raffaele, for sure they could have reached a top result as well." By the way, Smith got away with a 15 seconds stop-and-go penalty, but due to it not being served in time, which was later explained by the team with the slightly weak excuse of a "misunderstanding with race control", the Bentley was finally black-flagged and taken out of the race.
Nevertheless, there will be no break for Grasser Racing Team after the Monza triumph: Already next weekend the challenges will continue with the first race of the 2017 ADAC GT Masters at Oschersleben, where the team will take part again with two Lamborghini Huracán and then the second race of the Blancpain GT Sprint Series is waiting at in Brands Hatch.