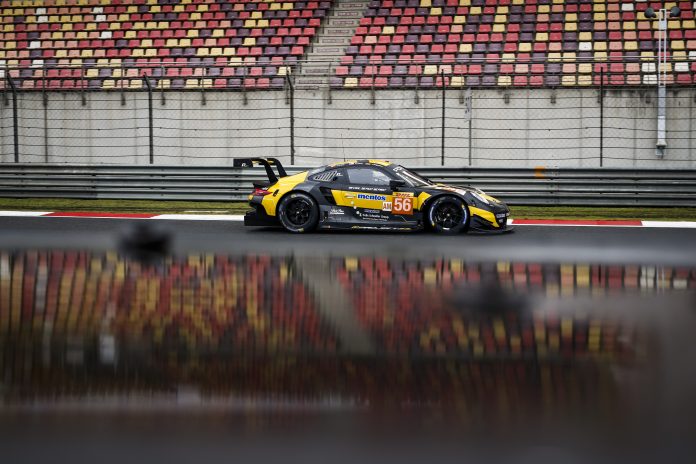 Project 1 had all reason to be pleased in Shanghai. The team from Lohne secured second place in the FIA WEC 6-hour race and this also meant the third podium in succession. Following the race Jörg Bergmeister, Egidio Perfetti and Patrick Lindsey stand at the top of the table of the FIA World Endurance Championship in the LMGTE Am class.
Due to bad weather conditions, the Shanghai International Circuit race promised to be a difficult one for the whole field. Torrential rain at start and finish demanded full concentration from all drivers. Final driver Jörg Bergmeister kept his cool throughout and clinched second place for the Porsche team after two strong last laps.
"It was a great race. The boys did really good preparatory work, enabling me to attack Matteo Cairoli at the end and secure second place. I'm all the happier that this means top of the table", said Porsche works driver Jörg Bergmeister.
Final key to success was the continuous increase in performance and also the team's strategy. After a seventh position in dry qualifying, all three drivers delivered a spirited but at the same time controlled race on a basically wet track and steadily worked their way forwards.
"At the start, things were quite crazy", Egidio Perfetti summarized. "But the team did a fantastic job and chose a really good tyre strategy for these difficult weather conditions. I couldn't make up too many positions during my stint, but consistency was motto of the day. All in all it was a strong team performance and eventually Jörg secured second place."
So Asia proved to be a good hunting ground for Project 1 in the FIA WEC: the team had already celebrated its initial class win at Fuji in Japan and car #56 achieved a first podium with a third at the previous event in Silverstone, UK. This was the third World Endurance Championship triumph in a row for Project 1 – a very convincing performance in the team's premiere year. After the season's five races, the trio ranks first in the LMGTE Am classification standings with a 12 point lead.
Nevertheless, the Project 1's FIA WEC season isn't over yet. The next race is part of the Super Season and is scheduled for 13 to 15 March 2019 in Sebring.