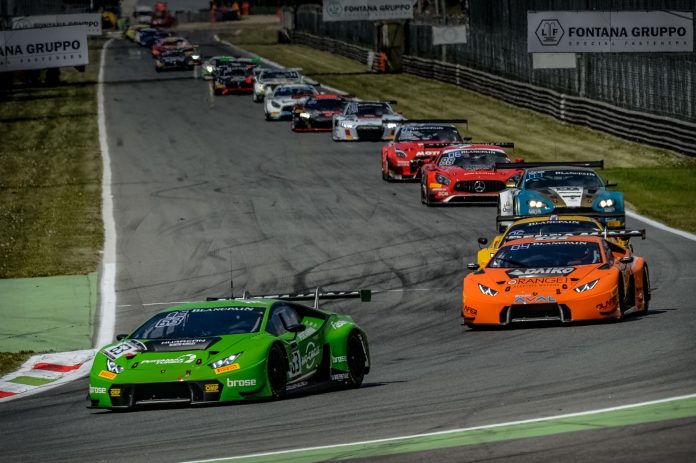 After two years from the first ever victory of the Huracán GT3, at the 2015 Blancpain GT Endurance in Monza, Lamborghini returns to triumph where everything has begun. Grasser Racing Team # 63 took the win in the opening round of the prestigious Blancpain GT Series Endurance Cup at Autodromo of Monza, thus beginning in the best way one of the most challenging GT3 championship in the world.
The victory of the Grasser Racing Team' Huracán GT3 comes after the first place at the Nürburgring last September, during the last race of the 2016 Blancpain GT season. This demonstrates the growth in the past few months, thanks to teamwork and drivers. Talking about drivers, the crew that has brought the Grasser Racing Team's Lamborghini to the victory is partially new for the current season: Mirko Bortolotti and Christian Engelhart, already teammate in 2016, welcomed the talented Italian driver Andrea Caldarelli.
The three-hour race held at the Autodromo of Monza, with ten Huracán GT3s fielded on track out of fifty cars on grid, began with a thrill: the # 7 Bentley Continental GT3 caused a collision In which ten cars were involved, including the Lamborghini # 19, the sister car of Grasser Racing Team, started from the front row with Perez Companc, Giammaria and Siedler.
After restarting, the # 63 Hurácan GT3 with Mirko Bortolotti behind the wheel started gaining positions, from fifth to the lead thanks to the impressive race pace imposed by Bortolotti. After the first hour, Andrea Caldarelli took the wheel for the second stint. Again, the Lamborghini Factory Driver kept an impressive pace that allowed to leave the car to Christian Engelhart with about 20 seconds of advantage. Engelhart, during his last stint, managed perfectly the race and led the Lamborghini to the checkered flag over the AF Corse Ferrari 488 GT3 and the HTP Motorsport Mercedes AMG-GT3.
Thanks to a perfect race strategy, teamwork and drivers work, Lamborghini now leads the Blancpain GT Series Endurance Cup standings.
Noteworthy is also the excellent debut of the Huracán GT3 fielded by Orange 1 Team Lazarus, the 2016 International GT Open champion and now engaged in the Blancpain GT. The # 27 Lamborghini driven by Lamborghini Squadra Corse GT3 Junior Drivers Fabrizio Crestani, Gustavo Yacaman and Nicholas Pohler, fought in the top ten during the first stint but due to a tire issue and the consequent time loss had to end at 21st place.
The next round of the Blancpain GT Series Endurance Cup is scheduled at Silverstone Circuit from 12 to 14 May.