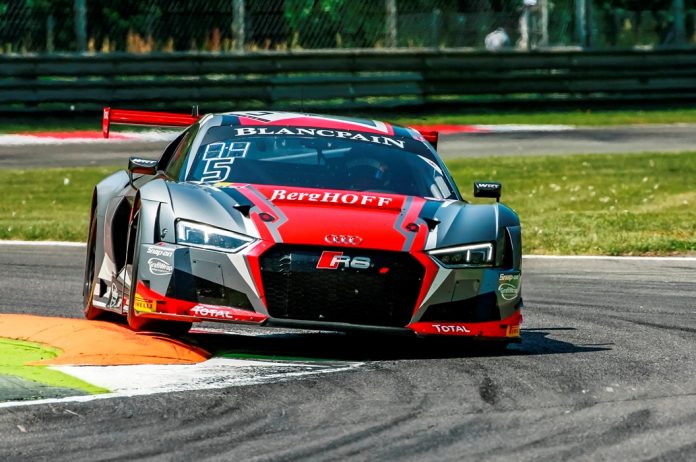 The British campaign of the Blancpain GT Series continues this weekend with a second stop, this time at Silverstone for the second round of the Endurance Cup. Last week, the Sprint Cup's event at Brands Hatch brought good results, including two podium finishes in the Main Race, for the Belgian Audi Club Team WRT, which is now hopeful to have the 'real' start of the season in the Endurance Cup as well. After a bitter season-opener at Monza, the Audis R8 are ready to fight for top honours on the iconic home of the British GP. The Belgian squad heads to Northamptonshire with its usual Endurance 4-car entry, the only little change being that on car #17, Jamie Green will again sub for Robin Frijns, taken by his Formula E Commitments.
Team Principal Vincent Vosse's expectations are clear: "We want Silverstone to be exactly what Brands Hatch meant in the Sprint Cup last week: our start of the season in the Endurance Cup. We want good results and we have everything it takes: a good car, fast and motivated drivers and a great team. We had a good working session at Silverstone on Sunday and we know the Audis can do well there. Still, we have to see how the others perform, but we are ready to fight to be up front."
On car #2, Nathanaël Berthon, Stéphane Richelmi and Bénoît Tréluyer hope to have their … first race of the season. The three French-speaking GT stars were left as frustrated spectators at Monza when their car was hit from the back, and severely damaged, in the first lap of qualifying in Italy, an incident that cut short their weekend.
Josh Caygill, Jonathan Venter and Niki Mayr-Melnhof, on car #3, did finish at Monza, but out of the top 20, and will seek to significantly improve their result, something that is largely within their possibilities.
For Dries Vanthoor-Will Stevens and Marcel Fässler, on car #5, the objective will be revenge. Will Stevens, who will literally race at home, was an innocent victim in the massive pile-up at the start in Monza, and he will strive to be allowed to do much better at Silverstone. The same eagerness is shown by Dries Vanthoor. "We haven't had a very luck start of the season", reckons the young Belgian, "but things got better at Brands Hatch last week, where we showed excellent pace, in free practice and in the race. It's a pity that we had a poor qualifying, which impacted on the rest of the weekend, so in Silverstone the objective will be to be at the top throughout the entire weekend. Silverstone should be a good track for the Audis and we had the opportunity to work already on the set-up during a brief test earlier this week. Let's see how it goes and we really aim at a good race there, hoping the Lambos are not as quick as shown so far."
Car #17 will have this time an all-Union Jack flavor, as Jamie Green will be joining its two British regular drivers, Stuart Leonard and Jake Dennis. The DTM star, who last week won one of the races at Hockenheim, is subbing again for Robin Frijns (as he did in Misano for the sprint Cup), as the Dutchman is taken by his Formula E duties and will be racing in Monaco this weekend. A single-seater specialist so far, Jake Dennis is discovering GT racing this year and is already shining, as proven last weekend at Brands Hatch. "The pace was good", explains the 21-year-old from Leicester, "but I am still in my GT rookie season and need to learn many things. Luckily, WRT is the perfect team where to be for that and I can also take a lot from my experienced team mates. After five seasons in single-seater formulae, switching to GTs doesn't happen overnight. Driving a GT car is obviously different, not last because it is not 'your' car only and you have to share it with other drivers. It requires some compromises in terms of set-up. But I feel more comfortable every day and I'm enjoying a lot the experience of working with very high-level people. My focus is to try to avoid mistakes, progress and show my potential. Being at Silverstone, for a second home race in one week, is an exciting prospect, and I think the car will be good there. A lot can happen in a 3-hour race, but to qualify well in the first place will be very important."
Action at Silverstone, for Belgian Audi Club Team WRT, will start on Saturday morning, with both qualifying and the race scheduled on Sunday, with the 3 Hours kicking off at 14:55 UK time.