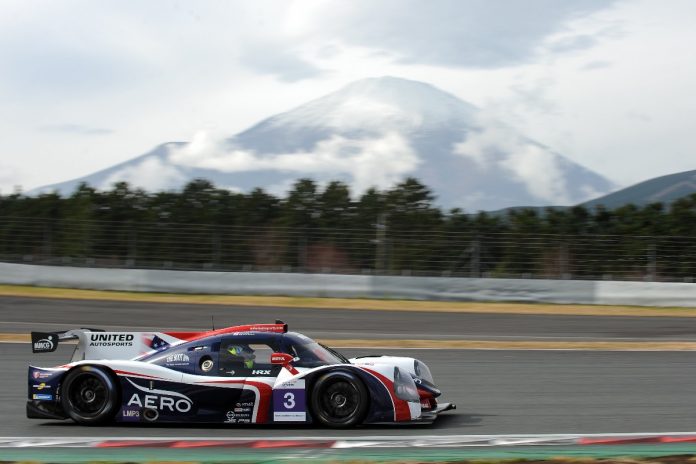 United Autosports are preparing for the third round of the Asian Le Mans Series in Buriram, Thailand this weekend (11-12 January).
The team head into the second half of the season leading the LMP2 and LMP2 Am championships. Phil Hanson and Paul Di Resta lead the championship in the #22 Ligier JS P2 after finishing second in Shanghai and Fuji, along with Phil scoring a spectacular pole position at Fuji. The #23 crew of Guy Cosmo, Patrick Byrne and Salih Yoluc are also leading their class championship by two points after winning the opening round at Shanghai and finishing second at Fuji.
The LMP3 team are lying second and third in the standings – the #3 car of Matt Bell, Jim McGuire and Kay van Berlo are 11 points off the lead after their win at Fuji last time out. Jim McGuire rejoins the team for the third round, after missing Fuji due to business commitments. The #2 Ligier JS P3 of Wayne Boyd, Garett Grist and Chris Buncombe is a further five points behind the #3 in third after a second place in Shanghai, but a disappointing fifth in Fuji.
Both the LMP2 and LMP3 teams are aiming for the top step of their respective podiums at Buriram, the LMP2 teams aiming to consolidate and extend their championship leads, while the LMP3 team is aiming to close the gap to the leading LMP3 team ahead of the final round at Sepang, Malaysia in February.
The third round of the Asian Le Mans Series takes place at Buriram, Thailand and begins on Friday 11th January with free practice at 08:40 local time (UK +7hrs). The four-hour race will begin at 12:00 on Saturday 12th January. The live stream and live timing of qualifying and the race will be available on the Asian Le Mans Series Facebook page, You Tube and website.
Phil Hanson (GB), driver car #22, United Autosports:
Born/Lives: London, UK. Age: 19
"I'm looking forward to going back to Thailand. Buriram is a track that I've already been to when I raced in the Asian Le Mans Series a couple of years ago. As my first race of the new year it will be important to get off to a good start and hopefully add to our championship lead."
Paul Di Resta (GB), driver car #22, United Autosports:
Born: Scotland, UK Lives: Monaco. Age: 32
"The first two races of the season have been very good – the highlight being Phil's qualifying at Fuji. The race in Fuji just didn't quite go our way, but we are in good shape in terms of the championship, leading with two rounds to go. The conditions will be much different in the next two races than the first two, warmer and more demanding. I've never been to Thailand so I'm looking forward to experiencing another culture, which is also part of racing in the Asian Le Mans Series. We are heading to Thailand with the same fighting spirit so we can continue the progress we are making in this championship."
Guy Cosmo (US), driver car #23, United Autosports:
Born: New York, USA. Lives: Palm Beach Gardens, USA. Age: 41
"Buriram is an interesting circuit and one that both Patrick and I are familiar with. We've adapted to the Ligier JS P2 well and have been getting more competitive each race. With the preparations we've made we are looking for another win in Thailand. We've had a strong start to the season but with only four races in the championship you can't afford any hiccups. We are leading by just two points so these two remaining rounds require flawless execution to win the championship. We have what it takes to win and we are ready."
Patrick Byrne (US), driver car #23, United Autosports:
Born: Colorado, USA. Lives: Washington, USA. Age: 28
"I'm very excited to head into the third round of the Asian Le Mans Series. We are only two points ahead at the halfway mark so we know we are up against some really great drivers and teams. It would be an understatement to say this year's racing field is merely competitive. Remembering back to last year's race in Thailand, Guy and I had a power-steering failure that cost us the podium, so in our minds there is unfinished business in Buriram. Both our LMP2 #23 car as well as our LMP2 #22 car are leading in our respective classes, so this shows what top-notch teams and drivers United has recruited this year. As a driver, it's a real pleasure to be working with such a professional and well organised team, while competing once again for the championship."
Salih Yoluc (TUR), driver car #23, United Autosports:
Born/Lives: Istanbul, Turkey. Age: 33
"I'm looking forward to attending a race in a warmer climate for a change. Last time we were a bit unlucky with the calls during the pit stop with mixed weather conditions, but we have the pace to do better than last time so all we need is a clean race."
Garett Grist (CAN), driver car #2, United Autosports:
Born: St. Catherine's, Canada. Lives: Grimsby, Canada. Age: 22
"Fuji was tough for us. We had a failure during our first pit stop which cost us a lap and from there we were just playing catch up. A bright side of the weekend for me was that I got to do my first qualifying for United Autosports and I put us on the front row. We'll continue to build on our pace from the first two rounds and make sure we limit any mistakes and execute our plans well. The track in Thailand looks very fun, I look forward to getting out there."
Chris Buncombe (GB), driver car #2, United Autosports:
Born: Taunton, UK Lives: London, UK Age: 40
"It will be unusual jumping into a race weekend so soon after the Christmas break but I'm thoroughly looking forward to the Thailand event. I've not been to Buriram before but the track looks good and it's certainly going to be very different weather conditions and temperatures that what we have had so far this year in the Asian Le Mans Series. We came away from Fuji disappointed with our fifth place but we are determined to enjoy stronger races in Thailand and Malaysia in order to still challenge for the championship. "
Wayne Boyd (GB), driver car #2, United Autosports:
Born: Belfast, Northern Ireland. Lives: Templepatrick, Northern Ireland. Age: 28
"I'm really looking forward to round three of the Asian Le Mans Series in Thailand. The track looks really good for racing around and quite technical in parts, which should suit our car really well. We had a good start to the season in Shanghai with a second place, but we were disappointed with fifth place in Fuji. We have worked on a few things and are hoping to be going to Buriram fighting for the win."
Jim McGuire (US), driver car #3, United Autosports:
Born: New York, USA. Lives: San Francisco, USA. Age: 58
"Unfortunately, I had to sit out the Fuji round due to a work commitment, so I'm itching to get back into the car. I'm trying to keep my focus, work with Matt and Kay on keeping the AERO-painted Ligier JS P3 competitive and have fun at the same time. Thailand should be an interesting place for us. The United Autosports crew always delivers a great car for us drivers, so we'll show up and push hard and hopefully we can finish on the podium."
Matt Bell (GB), driver car #3, United Autosports:
Born: Newcastle, UK. Lives: Stamford, UK. Age: 28
"I'm very much looking forward to kicking off 2019 with a return to Buriram. I really enjoyed this circuit last time I was there so I can't wait to tackle it in an LMP3 car. We will be welcoming Jim back into the line-up and we're fresh from our win in Fuji, so we will be looking to continue that run of form. The only thing I'm not looking forward to will be the conditions; it's going to be extremely hot and a total contrast to Japan! No woolly hat needed this time!"
Kay van Berlo (NED), driver car #3, United Autosports:
Born/Lives: Veghel, The Netherlands. Age: 18
"I'm really looking forward to being back at Buriram. I participated in last year's Thailand Super Series race in Buriram so I know the track already and really like it. I think it will be even more fun with the P3 car. We ended our year on a high in Fuji and of course we will try to achieve the same result in Buriram. It's great to have Jim back in the car again – we already have some great results together and hopefully we can add another great result in Buriram. Bring it on!"
Zak Brown, Team Owner and Chairman, United Autosports:
"We head into the new year in good positions with our LMP2 team, leading both championships. The LMP3 team has a bit of work to do, but lying second and third in the championship isn't a bad result at the half way stage. All four driver line ups have the capability of winning so that is the goal for Buriram."
Richard Dean, Team Owner and Managing Director, United Autosports:
"We have started 2019 as we did 2018, heading straight into a race weekend. Last year it was the Rolex 24 At Daytona and this year it is the third round of the Asian Le Mans Series. Although a little different to Daytona, I'm still expecting good things from our first race of the new year in Thailand. We are in good positions for the championships, but there's still lots to do to make sure we are at the sharp end come the final race in Malaysia in February."