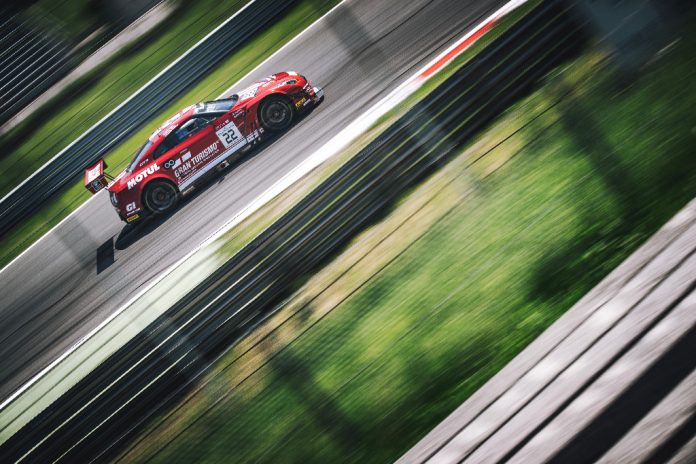 After a trouble-free run to start his 2018 season at Oulton Park in the British GT Championship earlier this month, RJN Motorsport driver Struan Moore suffered a disappointing result start to the 2018 Blancpain Endurance Cup season last weekend at Monza. His #22 GT SPORT MOTUL Team RJN Nissan GT-R NISMO GT3, which he shares with Jordan Witt and Ricardo Sanchez, retired early in the three-hour race due to mechanical issues suffered at the first pit stop
Moore, who is racing in the highly-competitive Silver Cup class this year, did however, get to spend valuable time during the weekend getting up to speed with his new co-drivers and the new 2018-spec Pirelli tyres. He also took part in the new-for-2018 Endurance Cup qualifying format, in which the grid is decided by the average of the best time from all three drivers in each car.
In the qualifying session, which was held on Sunday morning before the race, Moore set the #22 GT-R NISMO GT3's fastest time. His best lap was a 1:48.929, which was sixth fastest of the Silver Cup drivers during the third session.
Next up for Moore in his 2018 campaign with RJN Motorsport is the second round of the British GT Championship at Rockingham Motor Speedway this weekend, where he and teammate Devon Modell will compete in a two-hour race on Sunday.
Struan Moore:
"While it's disappointing to start my Endurance Cup campaign with a DNF, there were plenty of positives to take from the weekend. We know the GT-R GT3 has good pace for the races, and me and my teammates get on very well.
"I have a lot of faith in everyone I'm working with this year, the mechanics all worked so hard, as did my teammates, it just wasn't meant to be.
"I didn't enjoy the new qualifying system, I preferred the Q3 shootout, but it's fairer, as everyone gets a shot, which in turn splits up the classes nicely. I'm looking forward to the opportunity to turn things around at Paul Ricard already."