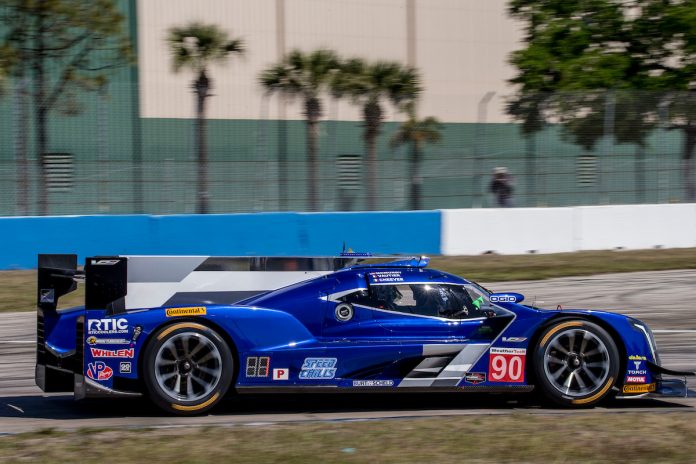 The Spirit of Daytona Racing team overcame early weekend adversity to put their No. 90 Cadillac DPi-V.R on the pole position for Saturday's 66th Annual Mobil 1 Twelve Hours of Sebring presented by Advance Auto Parts, race two of the 2018 IMSA WeatherTech SportsCar Championship.
The accomplishment marked the second consecutive Sebring pole for driver Tristan Vautier, having set a new track record in his GTD run in 2017. Vautier, Matt McMurry and Eddie Cheever III will head to the starting line Saturday morning with the intention of earning the team's first Sebring victory.
With 15 minutes on the qualifying clock to battle the other 15 prototypes – driven by some of the biggest names in motorsports – Vautier found his Continental Tires coming up to speed quickly, with his pole-winning (and track record-setting) lap time of 1:47.432 coming on Lap 2.
The entire Spirit of Daytona team has worked hard over the span of two days to prepare the Cadillac DPi-V.R. After a solid first practice on Thursday that saw the team set the second-quick time, a precautionary engine change was performed when a data anomaly with the water pressure system was discovered. The team worked on setup in the four practice this morning and gave Vautier the tools he needed to do the rest.
"This is my second pole in a row, so I seem to like this place!" said Vautier. "The whole track is very technical and very high-commitment, and that suits me. And obviously you must have a good setup as well, and both times I've been on pole I've had a very good engineer. But I was going for it. With the new Continental Tire spec and the heat, the tires came in very quick. No one expected that lap time. I saw a 47 on the dash and I didn't expect it to be that quick. My second flyer didn't feel like my best lap so I thought that it was going to be tough for anyone else to beat that time."
Team owner Troy Flis was happy to see the signature blue Spirit of Daytona colors back on top, especially for one of the biggest races of the season.
"It's been a tough weekend," said an emotional Flis. "But Tristan did a great job driving this car and we just need to thank Cadillac for all the help. We really needed this. I'm excited about tomorrow. We knew we were going to come here with a good car and I know we have the best team, but we have to make it to the end. It's always a tough race here but this is one race we haven't won and we really want it. We know we have a good car and a great team, so we have to stay out of trouble and get it done."
"This means a lot to the team," Vautier continued. "To think that the guys got the car in December and powered through the Christmas break to get it ready, then with the issues we had yesterday – to be in the top-five at Daytona and on pole here is big. When you see the names of the teams and drivers that we've put behind us in qualifying, it means a lot. The race is going to be tough, you have to push 101 percent. I don't think there's going to be much race management or saving anything for the end: the level of competition is just too high, people will be pushing the whole time. We'll work to stay in contention the whole race and be there for the final push."