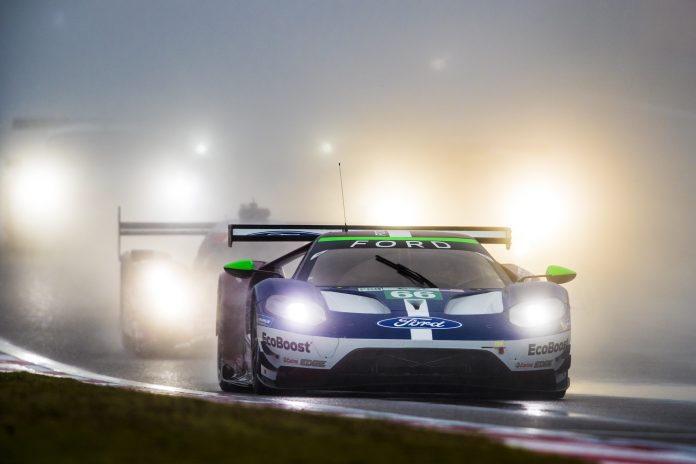 The Ford Chip Ganassi Racing team finished a bruising 6 Hours of Shanghai in seventh place for the #67 Ford GT of Andy Priaulx and Harry Tincknell and ninth for Stefan Mücke and Olivier Pla in the #66 GT.
"That was not the result we hoped for, especially when starting from pole position," said team principal George Howard-Chappell. "The conditions were difficult for everyone today but in the heavy rain both Ford GTs had excellent pace. Oli got punted off early by the Porsche, which started the run of issues that ultimately left us further down the order than we deserved. Tyre choice and the changing weather conditions did not go our way either. We tried our best but not a great day at the office."
The race started behind the safety car due to heavy rainfall in Shanghai but, after the cars tip-toed around the sodden track for 15 minutes, the race was red flagged as the conditions were deemed to be too dangerous. Over an hour after the original start time the race got back underway, with the safety car pulling in after one lap.
At this point Pla was leading in the #66 Ford GT after starting from pole position and Priaulx was in seventh place in the #67 GT. The lead didn't last though as the Frenchman was pushed off the track when the #92 Porsche made an over ambitious move on the #66 Ford, sending Pla off the track and all the way back to eighth position.
With conditions worsening, out came the red flag again, and the race was neutralised for a further 30 minutes. The clock continued to count down and with just over four hours left on the clock the race resumed.
"The start of the race went really well, despite the difficult conditions," Pla said. "Our pace when it was really wet was great but unfortunately I was spun off by the championship-leading Porsche. We were fighting for position and he just hit me in the back, which is not right.
"When the track started to dry we found that we just couldn't get our tyres to work with the car so we were fighting that all the way," continued Pla. "We're pretty disappointed to end up in ninth position after starting from pole."
In the #67 Ford GT, Andy Priaulx had a good start from seventh and was making great progress before a spin into the gravel in heavy rain at the halfway point of the race. From that point on it was a recovery drive for Priaulx and his team mate Harry Tincknell.
"We had a pretty good start," Priaulx said. "The conditions were challenging but it all felt good. Unfortunately towards the end of my long stint I had a spin, which was pretty unlucky. I managed to re-join and get back onto the lead lap. We didn't have sensational pace after that so couldn't make inroads so we need to work out why we couldn't get the best out of the wet tyre. Ultimately the whole weekend has been a little up and down for us: a tough weekend in the rain."