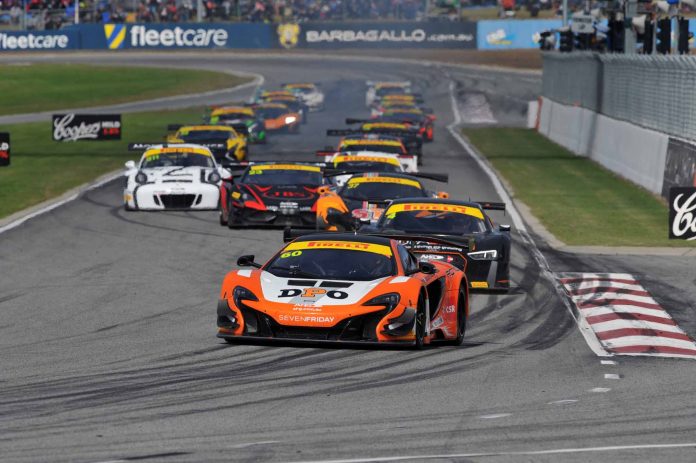 The 2017 season will be the biggest in Australian GT history, taking in fourteen race weekends across three competitions running from March to November.
A revised CAMS Australian GT Championship will see an increased presence at Supercars events with the first of five rounds kicking off at the Clipsal 500 in Adelaide.
Round two sees Australian GT once again appearing at the Formula 1 Rolex Australian Grand Prix before heading west to Barbagallo in May before turning north for the popular Townsville 400.
The season will then wrap up at the Sandown 500 for the fifth and final round of the Championship.
"We have accepted the requests of the competitors and worked with Supercars to ensure our racing formats are accommodated," explained Australian GT manager Ken Collier of the revised calendar, which provides an exciting blend of events and circuits across Australia.
The CAMS Australian Endurance Championship will start its season off at Phillip Island as the first leg of the CAMS AEC Australian 1001, the second leg of which will be held at Sydney Motorsport Park as part of the Red Rooster Sydney SuperSprint.
Venturing across the Tasman to New Zealand for rounds three and four, the Championship will take in Hampton Downs and Highlands Park to form the CAMS AEC New Zealand 1001.
After a hugely successful inaugural season in 2016, the CAMS Australian GT Trophy Series schedule has also been finalised, with Sandown set to host the first round of the 2017 campaign in April.
With a new wave of cars eligible for the year ahead it promises to be another enthralling season which will see competitors heading to Winton, Queensland Raceway, and Phillip Island before ending the season at Wakefield Park.
All events will be held in conjunction with the CAMS Shannons Motor Racing Nationals with each round boasting two 50-minute races.
2017 CAMS Australian GT Championship calendar
1. Clipsal 500, Adelaide (March 2-5)
2. Rolex Formula 1 Australian Grand Prix, Melbourne (March 23-26)
3. Perth SuperSprint, Barbagallo (May 5-7)
4. Townsville 400, Townsville (July 7-9)
5. Sandown 500, Sandown, (September 15-17)
2017 CAMS Endurance Championship calender
1. AEC Phillip Island 500, Phillip Island (May 26-28)
2. AEC 501 Sydney, Sydney Motorsport Park (August 18-20)
3. Hampton Downs 500, Hampton Downs (October 27-29)
4. Highlands 501, Highlands Motorsport Park (November 10-12)
2017 CAMS Australian GT Trophy Series calendar
1. Sandown Raceway (April 8-9)
2. Winton Motor Raceway (June 10-11)
3. Queensland Raceway (August 5-6)
4. Phillip Island (September 9-10)
5. Wakefield Park (November 18-19)