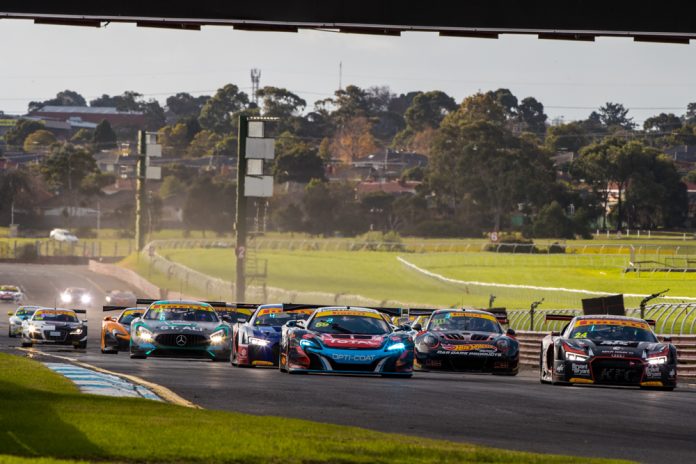 An Australian GT record 35-cars are have entered for this weekend's Phillip Island 101, run as part of Round 3 of the Shannons Nationals (June 1-3).
The staggering field will showcase a host of the leading GT3 and GT4 machinery, and an incredible field of previous-generation GT3 cars.
Across the weekend, Australian GT will be on track on an astounding 12 different occasions, making for almost nine hours of track time across the three days.
The Phillip Island event will be the biggest in Australian GT history both in terms of field size and track time.
The 35 car field is split between Round 4 of the CAMS Australian GT Championship, and Round 3 of the CAMS Australian GT Trophy Series, with individual practice, qualifying and races for both competitions.
In the Trophy Series, the weekend begins on Friday with two 30-minute practice sessions.
They're followed later in the day by the two nail-biting 15-minute qualifying sessions which will determine the grid for Saturday's opening race.
Starting at 11:00 on Saturday morning, the first Trophy Series race of the weekend will see competitors racing around the iconic Phillip Island circuit for 50-minutes.
A second 50-minute race at 15:40 rounds out Australian GT's Saturday, and completes the Trophy Series aspect of the weekend.
Attention will then turn to the Australian GT Championship competitors on Sunday, with the weekend's headline act the Phillip Island 101.
Practice for the event begins on Friday, with half an hour for teams to settle into the event which doubles as Round 2 of the CAMS Australian Endurance Championship.
Qualifying on Saturday afternoon is book-ended by the two Trophy Series races, with Practice 2 scheduled for a 09:55 start.
The busy weekend reaches its thrilling crescendo on Sunday afternoon with the 101 set to begin at 13:05.
With 300 points on offer to the winner, the race marks a critical juncture in drivers' quests for this years titles.
Liam Talbot currently leads the Australian GT Championship, the Hot Wheels Car Care Products Porsche driver holding a 61 point advantage over Fraser Ross (Total/Opti-Coat/Logitech/Leica McLaren 650S GT3).
In the Australian Endurance Championship, Max Twigg and Tony D'Alberto (WM Waste Management Mercedes-AMG GT3) hold down top spot after their fabulous victory at The Bend Motorsport Park, with Talbot and co-driver John Martin in second.
Nick Kelly in the Industrie Audi R8 LMS Ultra holds the Trophy Series advantage after two of the competition's five rounds, the halfway mark at Phillip Island poised to be a decisive moment in the season.
All of Sunday's action will be available live and free across the world via a live stream, available on the Australian GT website – www.australiangt.com.au/live.
Australian GT will also continue to provide exclusive behind the scenes content with pit walks, interviews and more via its social platforms.
Fans too are encouraged to get involved, sharing their thoughts, comments, questions and photos using #AustralianGT
Entry List: Australian GT, Phillip Island
# Team Car Drivers Class
1 Valvoline Audi R8 LMS Geoff Emery/Garth Tander CH
3 Ah Apartments Audi R8 LMS Ash Samadi/Dylan O'Keeffe CH
6 Wall Racing Lamborghini Huracan GT3 Adrian Deitz/Cameron McConville CH
7 Mariani Beef Jerky McLaren 650S GT3 Tony Quinn/TBA CH
8 WM Waste Management Mercedes-AMG GT3 Max Twigg/Tony D'Alberto CH
10 International Motorsport Audi R8 LMS Andrew Fawcett/Jonny Reid CH
11 Objective Racing McLaren 650S GT3 Tony Walls/Warren Luff CH
12 Seidler Group Porsche 911 GT3 Cup Car Chris Seidler/Luke Seidler TR
13 RHC Jorgensen – Strom by MARC Cars BMW M4 GT4 Daren Jorgensen/Brett Strom GT4/TR
23 Kentucky Fried Chicken Audi R8 LMS Ultra Matthew Stoupas TR
24 KFC/Ctech Laser/Moveitnet/B&B Audi R8 LMS Tony Bates/Daniel Gaunt CH
33 RHC Jorgensen-Strom by MARC Cars MARC Mazda V8 Brett Strom TR
34 Motorsport Leasing / RaceRamps Porsche 911 GT3 R John Morriss TR
48 Forum Group / M Motorsport KTM X-Bow GT4 Vince Tesoriero/Glen Wood GT4
49 Exedra / M Motorpsort Lamborghini R-EX Dean Koutsoumidis/James Winslow CH
50 Vantage Freight / M Motorsport KTM X-Bow GT4 David Crampton/Trent Harrison GT4
55 Hogs Breath Café / Griffith Corporation Ginetta G55 GT4 Mark Griffith/TBA GT4
58 175 Group / Intergrated Rail McLaren 650S GT3 Duvashen Padayachee/Shane van Gisbergen CH
59 Total Oil / Opti-Coat / Logitech McLaren 650S GT3 Fraser Ross/Jaxon Evans CH
63 Eggleston Motorsport Mercedes-AMG GT3 Peter Hackett/Jake Fouracre CH
64 Aaron Laboratories Porsche 911 GT3 Cup Car Joseph Ensabella TR
67 JMG / Bilstein Aston Martin Vantage GT4 Jeremy Gray/Andrew Miedecke GT4
71 Dale Paterson Motorsports Chevrolet Camaro Dale Paterson TR
77 JJA Consulting Group Lamborghini Gallardo GT3 Jan Jinadasa TR
88 Maranello Motorsport Ferrari 458 GT3 Peter Edwards CH
93 LOCAL Search by MARC Cars MARC Mazda V8 Adam Hargraves TR
98 Aussie Driver Search Audi R8 LMS Jaie Robson/David Russell CH
99 Industrie Audi R8 LMS Ultra Nick Kelly TR
100 BMW Team SRM BMW M6 GT3 Steve Richards/Ricky Capo CH
147 Superfluid Ferrari 458 GT3 Dave Stevens TR
188 E.A.T. Furniture Audi R8 LMS Ultra Rio Nugara TR
222 Scott Taylor Motorsport Mercedes-AMG GT3 Scott Taylor/Craig Baird CH
777 The Bend Motor Sport Park Mercedes-AMG GT3 Yasser Shahin/Luke Youlden CH
911 Walkinshaw GT3 Porsche 911 GT3 R Liam Talbot/John Martin CH
991 Perfect Auto Body Audi R8 LMS Ultra Vincent Muriti TR
Weekend Schedule: Phillip Island
Friday, June 1
10:35 Australian GT Trophy Series Practice 1 0:30
13:10 Australian GT Trophy Series Practice 2 0:30
14:20 Australian GT Championship Practice 1 0:30
15:15 Australian GT Trophy Series Qualifying 1 0:15
15:35 Australian GT Trophy Series Qualifying 2 0:15
Saturday, June 2
09:55 Australian GT Championship Practice 2 0:30
11:00 Australian GT Trophy Series Race 1 0:50
13:50 Australian GT Championship Qualifying 1 0:25
14:30 Australian GT Championship Qualifying 2 0:25
15:40 Australian GT Trophy Series Race 2 0:50
Sunday, June 3
10:05 Australian GT Championship Warmup 0:10
13:05 Phillip Island 101