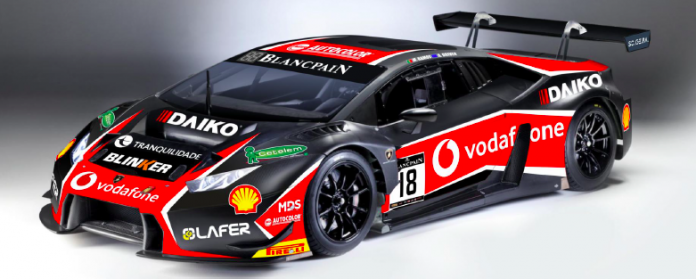 The 2018 season, Team Lazarus from the Veneto region in Italy will participate with two supercars in the Blancpain GT Series Endurance Cup as well as in the International GT Open Championship.
At the first race of the GT Open Championship, early April at the race track of Estoril, Miguel Ramos will debut behind the wheel of the Lamborghini Huracán GT3 with the support of Vodafone. The Portuguese driver won this Championship in 2015 and will share the wheel of the supercar from Sant'Agata with the Italian Fabrizio Crestani, winner of the series in 2016. The Portuguese driver will participate with Crestani also in the five races of the Blancpain GT Series Endurance Cup.
Crestani and Ramos will form an interesting and fierce couple in the GT Open Championship, considering that they both recently won this competitive series. Meanwhile the name of the third driver, necessary for the endurance races in the Blancpain Championship, will be announced soon. The first Endurance Cup of the 2018 season will be held at Monza on 21 April, followed by four more races, including the legendary 24 Hours of Spa-Francorchamps in July.
With experts like Ramos and Crestani as well as the support from Vodafone Team Lazarus will go for an encore in the International GT Open Championship, trying to win the crown in this challenging racing series with its seven races on the most exciting tracks in Europe. The contribution by the Portuguese driver and his enormous experience will be crucial for Team Lazarus in the two Championships.
In the coming days the drivers' couple for the second supercar started by Team Lazarus will be announced.