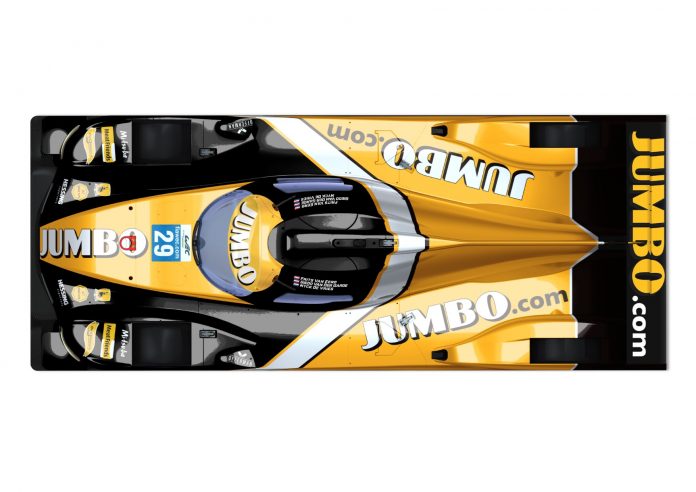 This all new, one-off colour scheme is inspired by the Italian Minardi F1-team, the childhood favourites of Frits van Eerd, the team owner of Racing Team Nederland as well as one of its drivers.
Gian Carlo Minardi, the founder of the Minardi-team, had travelled to The Netherlands for the livery launch, during which Racing Team Nederland also announced that the forthcoming Le Mans 24 Hours will be its last race with Dallara.
NEW CAR, NEW TEAM
The first and only Dutch team in the FIA ​​World Endurance Championship confirmed that it has entered the 2019/20 FIA World Endurance Championship, but with a new car and a new partner.
Racing Team Nederland will be racing an Oreca in 2019/20 in collaboration with TDS. The renowned French team has already achieved numerous victories and titles in endurance racing, most notably with Oreca.
The Racing Team Nederland drivers remain unchanged: Frits van Eerd, Giedo van der Garde and Nyck de Vries.
FRITS VAN EERD
"We have been racing with Dallara since our debut in 2017, first in the European Le Mans Series and now in the world championship. For two years, the Dayvtec crew, led by Davy Lemmens, worked day and night to improve the car. I am very grateful to them, because they achieved the car's maximum performance, and in 14 races we finished 14 times. However, Oreca has been the dominant LMP2 car. In 2019/20 we will therefore race an Oreca in the world championship. Consequently, we have joined forces with a team that has experience with that car. With TDS we are partnering one of the best Oreca teams in the business.
"First and foremost, however, we now fully focus on the forthcoming Le Mans 24 Hours. We want to give our very best there and conclude the collaboration with Dallara and Dayvtec in the best possible way. "
GIEDO VAN DER GARDE
"To start with, I am really looking forward to the Le Mans 24 Hours. During the last races in Shanghai, Sebring and Spa we were getting more and more competitive, and I hope this translates into a good result at Le Mans. Then we will embark on a new adventure; the FIA ​​WEC is one of the most important championships in motor racing and we have made a lot of progress in our first year. I look forward to 2019/20!"
NYCK DE VRIES
"This will be my first Le Mans 24 Hours, so I am very excited and curious! I love that I can combine the Formula 2 championship with Racing Team Nederland, and Le Mans will certainly be a highlight. That we will continue in the FIA WEC in 2019/20 is fantastic, because as a team we have become stronger all the time."
GIAN CARLO MINARDI
"I enjoy a special friendship with Frits van Eerd and I am honoured that the Minardi team has always inspired him. I think it's fantastic that the colours of my F1-cars can now be seen on the Racing Team Nederland Le Mans car. Frits and I will continue to explore how we can further strengthen the bond with Minardi, and I will gladly advise him, as a sort of "godfather" of his motorsport passion, regarding his racing team, new driving talent and possibly new projects."
JUNIOR TEAM
During the presentation of the 2019 Le Mans car, Racing Team Nederland also announced that it will launch a Junior Team in 2020. In the second half of this year, young karting drivers will be scouted for the Dutch karting championship. Frits van Eerd: "Karting breeds new racing talent. Giedo and Nyck were both world champion in karting and with Racing Team Nederland, we want to endorse Dutch racing talents. Karting is the best place for that. " At the end of this year, Racing Team Nederland will unfold their Junior Team's plans in detail.