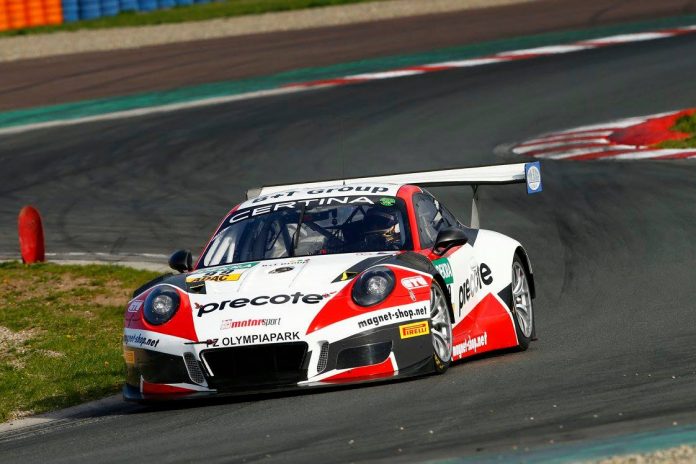 Precote Herberth Motorsport dominated the first day of ADAC GT Masters testing at the Motorsport Arena in Oschersleben.
Topping the timesheets over the three test sessions on the track near Magdeburg with a fastest lap of 1:26.501 minutes was Porsche works driver Kévin Estre (28, FRA), who stepped in for Precote Herberth Motorsport despite not being a contestant in this year's championship. Just behind on a time of 1:26.745 minutes was team-mate Sven Müller (25, GER) in another Porsche 911 GT3 R, which made him the fastest of this year's registered ADAC GT Masters entrants.
"The day went well," said Müller. "We quickly found a setup that suited me as well as my partner Robert Renauer. We are well prepared for the race weekend. Later in the day, we put in a few long runs, because we've been told it's going to rain on Wednesday."
The third best time of the day also went to a Porsche driver. Klaus Bachler (25, AUT) clocked a time of 1:26.989 minutes in the 911 entered by bigFM Racing Schütz Motorsport. After setting the fastest time in Session 1 during the morning, last year's champion Connor De Phillippi (24, USA) in the Audi R8 LMS prepared by Montaplast by Land-Motorsport had to settle for fourth in the day rankings, 0.5 seconds adrift of Estre.
Daniel Keilwitz (27, GER) in a Callaway Racing Corvette C7 GT3 was fastest in the third session.
The Top Five at a glance
1. Kevin Estre (Porsche 911 GT3 R), 1:26.501 mins
2. Sven Müller (Porsche 911 GT3 R), 1:26.745 mins
3. Klaus Bachler (Porsche 911 GT3 R), 1:26.989 mins
4. Connor De Phillippi (Audi R8 LMS), 1:27.018 mins
5. Daniel Keilwitz (Corvette C7 GT3), 1:27.068 mins