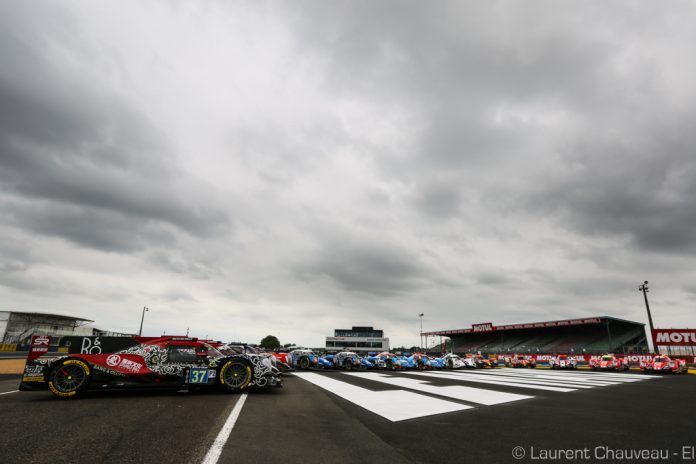 14 ORECA chassis lining up for this year's Le Mans 24 Hours
Biggest-ever contingent for a French constructor at La Sarthe
Test Day highlighted massive 8.5s improvement from last year's LMP2 benchmark
ORECA celebrates 40th anniversary of maiden Le Mans start
The 2017 Le Mans 24 Hours will bear a very special significance for ORECA, as the French manufacturer celebrates the 40th anniversary of its La Sarthe debut with a record-breaking 14 chassis lining up for this year's running of the iconic event. This is the biggest contingent ever seen from a French constructor at Le Mans, with ORECA targeting an impressive three-peat in the LMP2 class.
While reaching the age of 40 can lead some to a midlife crisis, ORECA feels as young as ever! Forty years ago, the French outfit took part in its first Le Mans 24 Hours with the Alpine A442 driven by René Arnoux, Guy Fréquelin, and Didier Pironi. Since then, many successful pages in the ORECA history have been written at the Circuit de La Sarthe. Whether it has been with its own cars or in collaboration with top constructors such as Mazda, Chrysler, Peugeot and Toyota, which has benefitted from ORECA's operational support since 2012, the Hugues de Chaunac-led company has stamped its mark in the world of endurance racing. As the 85th running of the Le Mans 24 Hours inches ever closer, the name ORECA features prominently on the 60-car entry list.
ORECA's wealth of experience at Le Mans is evident in its latest LMP2 machinery, which has been developed by ORECA Technology. The fast ORECA 07 chassis has already shown its credentials thanks to the many teams running the car in IMSA, ELMS, and FIA WEC where all LMP2 season entries have chosen ORECA challengers. It should not come as a surprise then to see ORECA chassis lock out the top 13 spots (out of 25 competitors) at the official Le Mans Test Day.
In a throwback to ORECA's maiden participation during the 1977 Le Mans 24 Hours, it was an Alpine A470 that clocked the fastest time during the traditional dress rehearsal held on 4 June.
The Team Signatech Alpine-entered car went 8.5s faster (for an average speed of 235kph) than the previous benchmark, which had been set last year by G-Drive Racing's ORECA 05, thus highlighting the impressive strides made in the LMP2 category over the past 12 months. Drawing upon its impressive Test Day performance, Alpine returns to Le Mans with strong line-ups and aims to defend its 2016 class win.
Fellow French team TDS Racing, which claimed the LMP2 runner-up spot in both 2012 and 2014, also boasts a promising crew, with seasoned veteran Emmanuel Collard teaming up with young gun Matthieu Vaxivière and Bronze ace François Perrodo, who has impressed on his LMP2 FIA WEC debut this year.
For what is only its second appearance at La Sarthe, CEFC Manor TRS Racing is learning fast, as shown by former Formula 1 driver Jean-Eric Vergne's second quickest time on the official Test Day. The British squad, which runs under Chinese colours, headed another Sino-British outfit, Jacky Chan DC Racing, which enjoys the support of Jota Sport. Making its debut at Le Mans this year, the team owned by David Cheng and famous actor Jacky Chan displayed great pace with third place on the timesheets, thus extending its strong start to this year's FIA WEC where it won the season-opening 6 Hours of Silverstone.
Having come very close indeed to winning last year's edition, Russian outfit G-Drive Racing is determined to gun for Le Mans glory this time around and arrives at La Sarthe on the heels of a superb start to the 2017 FIA WEC campaign, highlighted by two pole positions and victory at the WEC 6 Hours of Spa-Francorchamps.
Vaillante Rebellion is also fielding a pair of ORECA chassis for two extremely competitive line-ups that include very prestigious patronyms in Nelson Piquet Jr, Bruno Senna and Nicolas Prost, the latter two sharing the #31 ORECA. Also harking back to the glory days of the past is the partnership sealed between the Swiss team and iconic French comics series Michel Vaillant.
After a spirited first two rounds of this year's European Le Mans Series, the Dragon Speed – 10 Star team is eyeing a positive result in France's twice-around-the-clock classic. Having claimed pole position at the season-opening 4 Hours of Silverstone and secured a podium finish in Monza last month, the young US team is looking to make further strides and star at La Sarthe.
Nearly 25 years after its last Le Mans bow, historic French team Graff Racing is making a remarkable comeback to the top endurance stage with two ORECA 07 chassis. The Pascal Rauturier-led outfit is fully aware of the challenge at hand, but that does not mean they are coming to the blue riband event only to play second fiddle. It is also worth noting that Graff Racing is fielding the youngest line-up among the 14 ORECA 07 entries with Franck Matelli, Richard Bradley, and James Allen aged just over 23 on average.
All 14 ORECA 07 chassis successfully underwent the administrative checks and technical scrutineering held as part of the traditional Pesage in the Le Mans city centre (11-12 June). Track action begins on Wednesday 14 June with free practice, while the 85th running of the Le Mans 24 Hours gets underway on Saturday 17 June at 15:00, local time. ORECA is aiming for a third consecutive victory at La Sarthe following KCMG's success in 2015 and Signatech Alpine's triumph 12 months ago. More than ever, all the teams that form the ORECA family can rely on extensive and thorough support from the constructor's customer racing personnel.