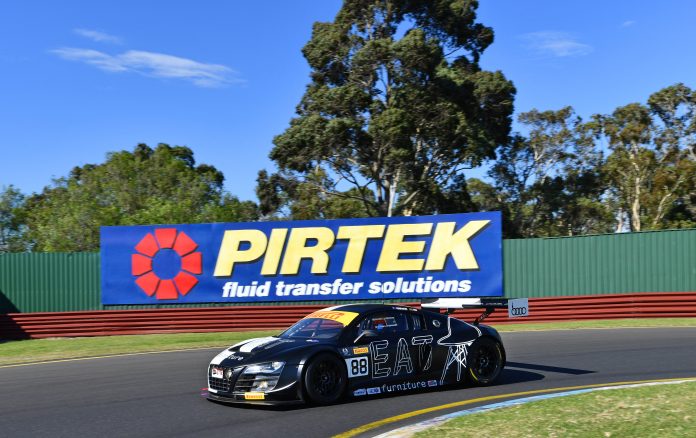 The Audi pairing of Rio Nugara and Jake Fouracre will start from pole position ahead of tomorrow's first 50-minute CAMS Australian GT Trophy Series race at Sandown Park race after a strong showing in qualifying.
Fouracre set the pace early in the Eat Furniture Audi R8 Ultra, his 1:10.952 beating last year's pole position marker by a tenth of a second.
Nugara then showed impressive speed when he took the wheel for the second qualifying session, ending the day enthusiastic despite a spin late in the session.
"There was nothing else we could have done today," Nugara said after he and co-driver Fouracre claimed ther maiden pole position.
"Jake was epic, as always, and now we look forward to tomorrow."
Second on the grid went to Richard Gartner, who only pulled back the covers on the all-new Safe-T-Stop Lamborghini Gallardo earlier in the week.
The veteran racer though took no time to adapt to his new ride, qualifying second overall and quickest in the afternoon qualifying session to head the points score.
Also on the pace at the front was Steve McLaughlan in the Valvoline Audi R8 Ultra, who was one of three drivers to dip below the 72-second barrier around the Sandown Park circuit.
The Swirk Online Education Audi R8 Ultra of Rod Salmon then heads an incredibly close-knit group, with four cars split by little more than a tenth of a second.
Jan Jinadasa (JJA Consulting Group Lamborghini Gallardo) trailed Salmon by just half a tenth of a second, while the Kentucky Fried Chicken pairing of Gary Higgon and Matthew Stoupas nipped at his heels.
Rob Smith was only three-hundredths further back in the South Star Developments backed Audi, the 2016 Trophy Series winner finding four tenths in the afternoon session.
The battle for pole position in the MARC class was equally ferocious, with Liam McClellan and Melinda Price holding out ahead of Keith Kassulke with John Goodacre (Gap Solutions/SEKTOR) in third by the blink of an eye.
Less than a tenth of a second split the three cars, McLellean's 1:12.925 just 0.02s faster than Kassulke's best effort from the first session.
A tough day for Jake Camilleri saw the 2016 MARC Class title winner set just a single lap in the first 20-minute session, the MARC Cars Australia crew setting about changing the engine ahead of tomorrow's opening race.
Sunday's two 50-minute races will complete the opening round of the 2017 CAMS Australian GT Trophy Series presented by Pirelli, with Nugara excited about the competition that awaits.
"It's my first season in Trophy Series and this year there's some epic guys, so it's going to be very competitive."
The first race gets underway at 10:50, the results of which will set the grid for Race 2 at 14:40.
Both races will be streamed live online via the Shannons Nationals website.
Race 1 Grid
Pos    Competitor/Team    Driver    Vehicle    Best    CPS
1    Audi Sport Customer Racing    Rio Nugara/Jake Fouracre    Audi R8 LMS Ultra    1:10.952    51
2    Safe-T-Stop    Richard Gartner    Lamborghini Gallardo LP600    1:11.192    46
3    Audi Sport Customer Racing    Steve McLaughlan    Audi R8 LMS Ultra    1:11.686    46
4    Audi Sport Customer Racing    Rod Salmon    Audi R8 LMS Ultra    1:12.034    46
5    JJA Consulting Group    Jan Jinadasa    Lamborghini Gallardo LP560    1:12.095    38
6    Kentucky Fried Chicken    Gary Higgon/Matthew Stoupas    Audi R8 LMS    1:12.136    28
7    Audi Sport Customer Racing    Rob Smith    Audi R8 LMS Ultra    1:12.165    28
8    Mack Bros Roofing Products    Wayne Mack    Ferrari 458 GT3    1:12.418    24
9    MARC Cars Australia    Melinda Price/Liam McLellan    MARC Mazda V8    1:12.925    34
10    MARC Cars Australia    Keith Kassulke    MARC Focus V8    1:12.927    30
11    Gap Solutions/SEKTOR    John Goodacre    MARC Focus V8    1:12.995    34
12    Audi Sport Customer Racing    Rick Mensa    Audi R8 LMS    1:13.137    20
13    Freechoice    Travers Beynon    Audi R8 LMS    1:13.188    20
14    Fiorano Motorsport    Scott Hookey    Ferrari 458 Challenge    1:13.680    24
15    Harcourts Epping    Emanuel Mezzasalma    Porsche 997 Cup Car    1:14.014    20
16    MARC Cars Australia    Jake Camilleri    MARC Mazda V8    1:15.573    36
17    Whitlock Bull Bars    Con Whitlock    Audi R8 LMS    1:17.220    20
18    M Motorsport Interlloy    Justin McMillan/Dean Koutsoumidis    KTM X-Bow    1:17.731    32