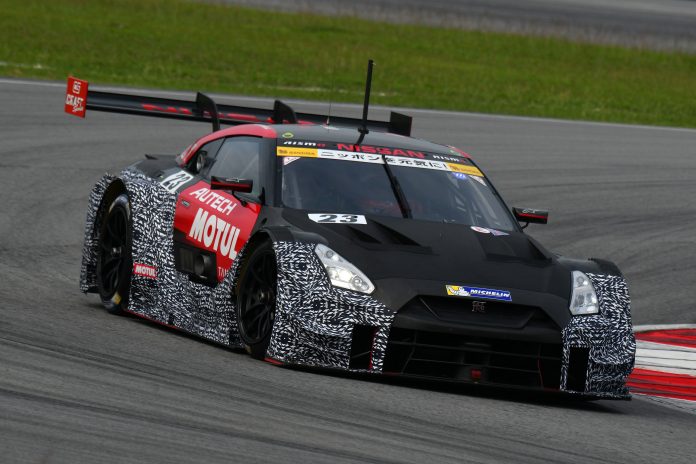 Nissan enters four Nissan GT-R NISMO GT500s, aiming to recapture the championships it won in 2014 and 2015. Nissan won five out of eight races in 2016 and missed the 2017 title by a mere 2 points.
Tsugio Matsuda and Ronnie Quintarelli, the 2014 and 2015 champions, will again drive NISMO's No. 23 MOTUL AUTECH GT-R, marking their fifth straight season as a driving combination.
Matsuda is the most successful GT500 driver in the history of the championship, with 19 wins. Quintarelli holds the series record for most championship wins, with four titles.
Making its GT500 class debut, NDDP Racing with B-MAX will pair veteran Satoshi Motoyama with young star Katsumasa Chiyo.
Team IMPUL will feature Daiki Sasaki alongside GT Academy graduate Jann Mardenborough, while 2017 Japanese Formula 3 champion Mitsunori Takaboshi steps up from the GT300 class with Kondo Racing with Joao Paulo de Oliveira.
The 2018-spec Nissan GT-R NISMO GT500's updates include:
Aerodynamic improvements, including optimization of air flow along the vehicle's center
Enhanced drivability, with increased engine output and improved durability
Revision of all alterable components to optimize the car's potential.
Customer racing programs
This season, the newly evolved, 2018-spec Nissan GT-R NISMO GT3 is available for customer teams. NISMO will continue customer support for teams running the 2015-spec GT-R GT3 in the SUPER GT GT300 class and Super Taikyu in Japan.
Racing team GAINER will compete in the SUPER GT GT300 class with two 2018-spec Nissan GT-R NISMO GT3s. The two-car squad will also debut in the Blancpain GT Asia series with KCMG.
Details on Nissan's participation in the Blancpain GT Series Endurance Cup in Europe are expected to be revealed in the near future.