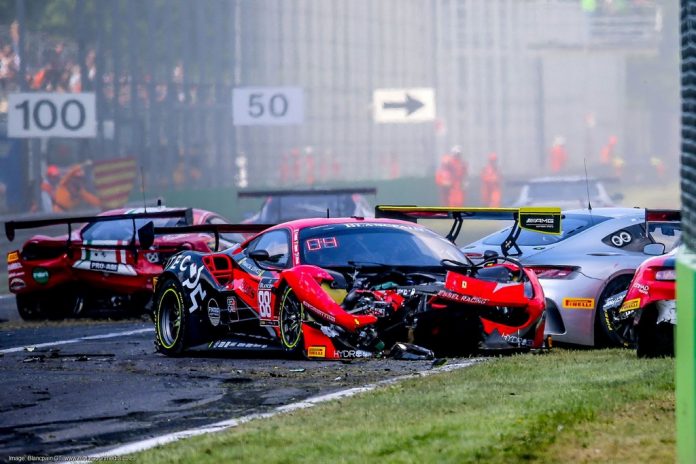 Monza's opening round Blancpain Endurance Series race did not pan out as South Africa's David Perel had planned to begin his quest to become a European GT3 Champion.
The 3-hour race was over for Perel, sharing a Kessel Ferrari 488 GT3 with Italian Marco Zanuttini and fellow South African Jacques Duyver before it had even started when Zanuttini became victim to a massive first corner pile up. Marco had already avoided another startline crash, but he was collected by a Mercedes AMG GT3 driver who had misjudged the carnage to take the Kessel Ferrari and four other cars out of the race.
"That was not the best way to begin our season but that is racing," David rued. "There was nothing Marco could do to avoid the accident – I've watched the onboard video many times now and still can't see how he could have missed it – such a pity because the weekend had gone so well until then. "It's a shame but we will come back just as strong for the next one."
David ended 14th overall and quickest in the AM class in practice and the Capetonian was confident heading into qualifying among the 55-car field. "We had some early set-up issues, which we sorted out fairly quickly and our new-tyre Pre-Qualifying run showed that we had the potential to fight at the front of our class."
Qualifying also went off without a problem as David placed the car second in class, especially considering that the team had focussed more on race pace as Perel and his Kessel team looked forward to a tough battle against the rival AF Corse Racing Ferrari 488.
"We had decided that Marco would start, Jacques would take over for the second stint and I would drive the all-important final hour, but sadly none of that transpired in the end and I was unable to actually race at Monza for the second year in a row," Perel , whose Ferrari 458 retired before his Monza stint last season concluded. "The only thing we can do now is make sure we're ready for Silverstone and express a huge thank you to our Kessel team for putting together a fantastic package for the race."