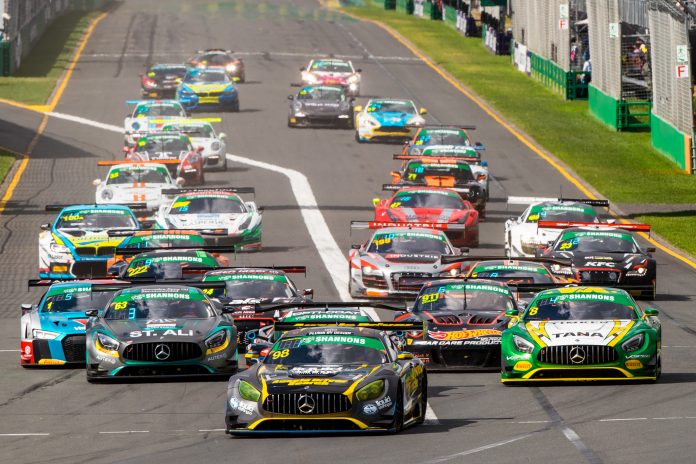 With a lights-out to flag lead, Jaie Robson won the fourth race and took overall first in the opening round of the CAMS Australian GT Championship at Albert Park today.
Robson saw off the early challengers to steer his Mercedes-AMG GT3 across the finish line four seconds ahead of his nearest rival.
Starting out of position three for the 11-lapper, Peter Hackett dropped to fifth on the opening lap before progressively moving the Eggleston Motorsport Mercedes to third, and then nabbed second off Fraser Ross (Total McLaren 650S GT3) on lap seven.
Ross was able to withstand the advances of Liam Talbot (Walkinshaw GT3 Porsche 911 GT3-R) after he passed the 2017 champion Geoff Emery (Jamec Pem Audi R8 LMS) to retain third.
Behind Emery came Max Twigg (Mercedes), Tony Bates (Audi), Scott Taylor (Mercedes) and Tony Quinn (McLaren).
Tenth went Nick Kelly who took his fourth Trophy Class win for the weekend.
Unlike the early events, he had to come from behind John Morriss (Porsche GT3-R) after contact with fellow Audi driver Matt Stoupas at the first corner.
There was just 2.5 seconds between GT4 Class winner Jeremy Gray (Aston Martin) and Xavier West (BMW M4) while Mark Griffith (Ginetta) was third.
Over the four races it was Justin McMillian (KTM X-Bow) who was third behind Gray and West.
Robson now leads the Australian GT Championship after the opening round.
The competition now moves to the inaugural event at The Bend Motorsport Park in South Australia next month (April 14-15) for the first Endurance format round of the season.
DRIVER QUOTES
Peter Hackett: "Fantastic start to the season. The car was finished on Wednesday night and first turned a wheel in qualifying one. We have just methodically move forward over the weekend."
Dom Storey: "I came here to help Peter and come away with points."
Scott Taylor: "Would have been nice to be on the podium but the car doesn't have a scratch on it."
Nick Kelly: "Matt (Stoupas) and I had some rubbing of panels in turn one by both going on the outside while John (Morriss) went down the inside and into the lead. He didn't make it easy for me to get past."
Matt Stoupas: "That contact with Nick put me back somewhat."
John Morriss: "I plucked a couple of gears at once and that gave the Audi the run on me to get past."
Xavier West: "Had a great race with Jeremy (Gray), just needed a couple of more laps and it could have been interesting."
Ken Collier: "A great weekend for the GT Championship, the best start to a season that we have ever had."
RACE FOUR RESULTS (11 laps)
1 Jaie Robson Mercedes-AMG GT3) CH 21:46.7142
2 Peter Hackett (Mercedes-AMG GT3) CH 21:50.7192
3 Fraser Ross (McLaren 650S GT3) CH 21:57.4061
4 Liam Talbot (Porsche 911 GT3-R) CH 21:58.0077
5 Geoff Emery (Audi R8 LMS GT3) CH 21:58.7905
6 Max Twigg (Mercedes-AMG GT3) CH 22:13.0692
7 Tony Bates (Audi R8 LMS GT3) CH 22:16.1192
8 Scott Taylor (Mercedes-AMG GT3) CH 22:18.9994
9 Tony Quinn (McLaren 650S GT3) CH 22:20.5016
10 Nick Kelly (Audi R8 LMS Ultra GT3) TR 22:29.9896
11 Peter Edwards (Ferrari 488 GT3) CH 22:34.1715
12 John Morriss (Porsche GT3-R) TR 22:36.4325
13 Matthew Stoupas (Audi R8 LMS Ultra GT3) TR 22:39.8567
14 Rio Nugara (Audi R8 LMS Ultra GT3) TR 22:47.0753
15 Steve Richards (BMW M6 GT3) CH 22:48.0551
16 Wayne Mack (Ferrari 458 GT3) TR 22:55.0655
17 Daniel Stutterd (Porsche 991 GT3 Cup) TR 23:18.2788
18 Michael Loccisano (Porsche 991 GT3 Cup) TR 23:36.6256
19 Nick Karnaros (Porsche 997 GT3 Cup) TR 23:45.4287
20 Shane Barwood (Porsche 991 GT3 Cup) TR 23:55.6394
21 Jim Manolios (Lamborghini Huracan GT3) CH 10 laps
22 Joseph Ensabella (Porsche 997 GT3 Cup) TR 10 laps
23 Chris Seidler (Porsche 991 GT3 Cup) TR 10 laps
24 Jeremy Gray (Aston Martin Vantage GT4) GT4 10 laps
25 Xavier West (BMW M4 GT4) GT4 10 laps
26 Mark Griffith (Ginetta G55 GT4) GT4 10 laps
27 Justin McMillan (KTM X-Bow GT4) GT4 10 laps
DNF Sam Fillmore (Porsche 991 GT3 Cup) TR 1 lap
DNF Dale Paterson (Chevrolet Camaro GT3) TR 0 laps
FASTEST LAP: Hackett 1:57.3091
ROUND ONE POINTS
Championship
Jaie Robson 156, Peter Hackett 135, Dominic Storey 135, Geoff Emery 135, Marcel Fassler 135, Fraser Ross 129, Craig Baird 126, Scott Taylor 126, John Martin 120, Liam Talbot 120, Tony D'Alberto 89, Max Twigg 89, Peter Edwards 87, Giancarlo Fisichella 87, Tony Bates 69, Dean Grant 64, Steve Richards 64, Tony Quinn 56, Dean Canto 44, Jim Manolios 44, Ash Samadi 20
Trophy
Nick Kelly 220, John Morriss 172, Matthew Stoupas 159, Rio Nugara 139, Wayne Mack 81, Daniel Stutterd 80, Michael Loccisano 78, Shane Barwood 68, Nick Karnaros 54, Joseph Ensabella 46, Chris Seidler 42, Dale Paterson 40, Sam Fillmore 37, Jan Jinadasa 24
GT4
Jeremy Gray 191, Xavier West 189, Justin McMillan 156, Mark Griffith 149