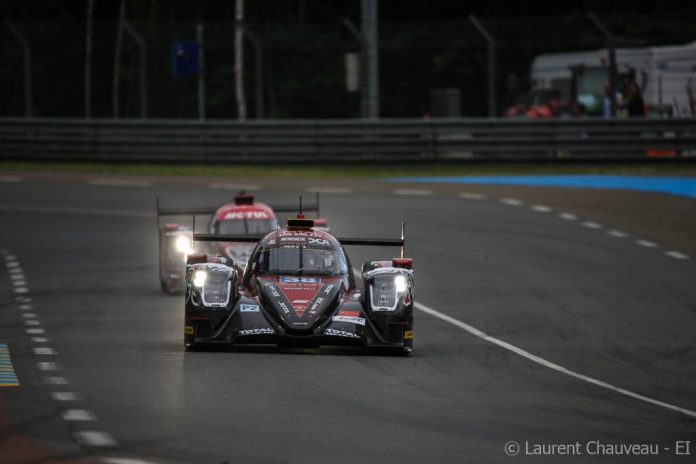 Jackie Chan DC Racing X JOTA Sport shows true racing spirit at the 86th 24 Hour of Le Mans, with double-TOP 10 finish in LMP2 class under massive difficulties as the second round of FIA World Endurance Championship concluded on Sunday afternoon.
The reigning Le Mans winner of LMP2 class arriving at Circuit de la Sarthe as championship leader started this year's campaign in hard way, with #Fortunecat37 hit by mechanic failure on the second lap into the 24-hour race, while defending champion car #Mighty38 running dropped down the field, suffering two unlucky tyre punctures in the first few hours.
Under such unfortunate circumstance, however, neither of the crew were willing to give up, bouncing back with full determination from the back of the field, after the mechanics had made incredible efforts to repair the cars against the clock.
Jazeman Jaafar, Nabil Jefferi and Weiron Tan sharing the car #Fortunecat37, being the first-ever full Malaysian-driver line-up in Le Mans history, responded impressively at their debut in the classic endurance race, and ultimately finished in sixth place in LMP2 class and tenth place overall after 359 laps, with a few eye-catching overtaking against other LMP2 competitors.
The car #Mighty38 of Ho-Pin Tung, Stephane Richelmi and Gabriel Aubry was forced to return to the garage, losing time on repairing due to the second tyre explosion causing damages to the car. With 11 laps down the order by the time the car retuned to track, the #Might38 crew gave all their efforts starting to climb up the GTE and LMP2 pack, before taking the chequered flag eighth in class and 12th overall.
Despite the far-from-expectation result, the Chinese team managed to collect important points for the battle in LMP2 championship for the 2018-19 WEC Super Season. The crew of #Mighty38 stand at second place, whilst the Malaysian crew stay at fourth, which kept the team second place on teams' championship after two rounds of the season had completed.
Jaafar, Jefferi, Tan and Aubry racing the 13.626-kilometre circuit for the very first time in their career showed their talent, commitment and team-player spirit throughout the entire event, while the former Le Mans winners Tung and Richelmi embraced another valuable experience of endurance racing.
The 86th edition of the famed endurance race marked the second time Jackie Chan DC Racing and JOTA Sport jointed in force competing in the French territory with two ORECA 07-Gibsons, whose race pace and consistency was confirmed again in the tight competition. With sixth rounds left in the WEC Super Season, the team will keep heads down and come back stronger at 6 Hours of Silverstone, August 17-19.
#Fortunecat37, ORECA-07 Gibson, Jazeman Jaafar / Nabil Jefferi / Weiron Tan
P6 in LMP2 class / 361 laps / Fastest lap – 3:29.112
#Mighty38, ORECA-07 Gibson, Ho-Pin Tung / Stephan Richelmi / Gabriel Aubry
P8 in LMP2 class / 356 laps / Fastest lap – 3:29.011
Sam Hignett, Director of JOTA Sport
It was a very tough race at Le Mans this year. At the very beginning of the race, due to tyre failures and mechanic issue, we were last and second last. It was a great achievement by the team and drivers to come back at sixth and eighth in LMP2 class. It's a missed opportunity and it's a bit of shame, but we should all be very proud of what we achieved coming from the field like that. With fewer incidents and a bit more luck, we would have been upper there challenging the victory again. But we will come back next year faster and stronger.
Jazeman Jaafar, driver of #Fortunecat37, Jackie Chan DC Racing X JOTA Sport
After the first problem we had 15 minutes into the race with mechanic issue, I thought the engine was going to give up as the temperature was overheating. But we kept strong together, and we fought hard keep everything consistent, without any penalty or mistake. We came back at sixth in class, tenth overall and third in WEC season. Now as a team, we are second in the championship. It's just an unbelievable experience. Great job by the team and my teammates. I am sure we will have more to come in the rest of the season.
Nabil Jefferi, driver of #Fortunecat37, Jackie Chan DC Racing X JOTA Sport
Finished sixth was okay given what happened at the start. I am happy by everything we did after the problem we had, finishing tenth overall and being second in the championship. It shows we had slowly improvement. Hopefully next time we come to Le Mans, we will be stronger.
Weiron Tan, driver of #Fortunecat37, Jackie Chan DC Racing X JOTA Sport
First of all, 'thank you' to Jackie Chan DC Racing and JOTA Sport for an incredible 24 hours. They make the experience so fruitful. For us as the crew of car #37, finishing Top 10 overall after what happened at the start – seven laps down, it was an incredible achievement. 'Thanks' Sepang Circuit and everyone else back at home. It's emotional and what a crazy event it was. The guys worked so hard on the last day. We had to give everything to them. We learned so much as a team and as drivers. Now we look forward to the next one and will definitely come back stronger.
Ho-Pin Tung, driver of #Mighty38, Jackie Chan DC Racing X JOTA Sport
Of course, first feeling is disappointment after our fantastic result last year when the team finished 1-2 in class. But I think as a team, we have done all we could to salvage the maximum of it. Very early on in the race, we had two tyre punctures, especially the second one causing a lot of damage on the car #38, and we lost more than 10 laps for repairs. We also had a problem with one of fuel pump from very early on in the race, so we could not use all the fuel on the car, which also was a big limitation for us. Having said that, the team never gave up. We never gave up. And to come back at eighth in LMP2 class, scoring valuable points for WEC championship. It's very important. Today was just one of those races not coming our way. But we will be back.
Stephane Richelmi, driver of #Mighty38, Jackie Chan DC Racing X JOTA Sport
Such a pity race. We probably were not the fastest, but I think if we had had a clean race, we could have been at least in Top 3, which would have been great. Then we had the punctures at the beginning of the race, with each time being at the end of the stint – the last lap. I was like a bit of unlucky, especially we had them at the beginning of the lap, which meant we had to make more than 10 km to come back to pit. So, we lost a lot of time, especially when the puncture for Gabi happened, he was doing top speed like 300km/h, damaging a lot to the car. So, the team did great job to finish everything in half an hour. But we down 11 laps. We could do nothing but kept pushing. I think our pace was good, we had some fastest in the stint.
Gabriel Aubry, driver of #Mighty38, Jackie Chan DC Racing X JOTA Sport
I am very happy to finally the race. The start was really painful to watch, with the two tyre punctures really destroying our chance to win the race. But anyway, it was my first race at Le Mans and we learned a lot in the race. I am confident that the rest of the race we did after the punctures was really great. We did not do any mistake. Now I really look forward to next year, and hopefully we could finally get a shot for the win.