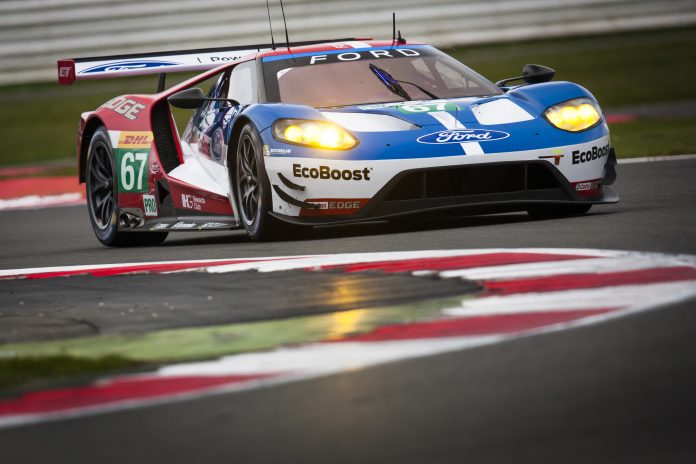 Harry's World Endurance Championship title hunt starts this weekend at Silverstone with Ford Chip Ganassi Racing after positive pre season testing.
Exeter's Harry Tincknell plans to make a flying start to the opening round of the 2017 FIA World Endurance Championship (WEC) on Easter Sunday. Harry will race the #67 Ford GT for his second consecutive season and will be joined in the six-hour race by regular full season team mate Andy Priaulx and Brazilian Pipo Derani.
The British venue has been the scene of some of Tincknell's best performances having won in FIA Formula 3 in 2013, recording pole position on his Sportscar debut in 2014 and last year winning the opening round of the European Le Mans to set up a Championship winning season in the LMP2 Class.
It has been a busy off season for the 25 year old. As well as finishing 5th in his first Daytona 24 Hours in Florida this January, the Ford Chip Ganassi Racing driver has been clocking up testing miles in Abu Dhabi, Spain and most recently at the WEC Prologue event in Monza, Italy.
The Prologue is the only pre season event where all the 2017 World Endurance Championship cars practice together and Tincknell left the iconic Italian circuit with a confidence boost having set the fastest lap time in the GT Pro class on the final day, underlying a positive winter period for the Ford GT.
Harry Tincknell (GB):
"I really can't wait to get going this weekend at Silverstone. I've had a great off season and arrive this weekend fitter and stronger than I've ever been before. I'm so motivated to start the season off on a high. As a team, we're in a much stronger position now we have a full year of racing under our belts and we've been busy trying to improve the car and my own performance over the winter".
 
"Silverstone has been a happy hunting ground for myself in the past, having won the European Le Mans Series race here last year before finishing 4th on Ford's return to the World Endurance Championship the next day. It is my favourite circuit due to it's fast and flowing nature and it is always special to start the season off with your home race".
 
"I'm really looking forward to teaming up with Andy again and we formed a great partnership last year, winning two of the final three World Endurance Championship races in Japan and China. And until the Le Mans 24 Hours, we're joined by Pipo Derani who I've raced against since our Formula 3 days. Pipo is not only a super fast addition to the team but he's also a fantastic team player and he has fitted in really well".