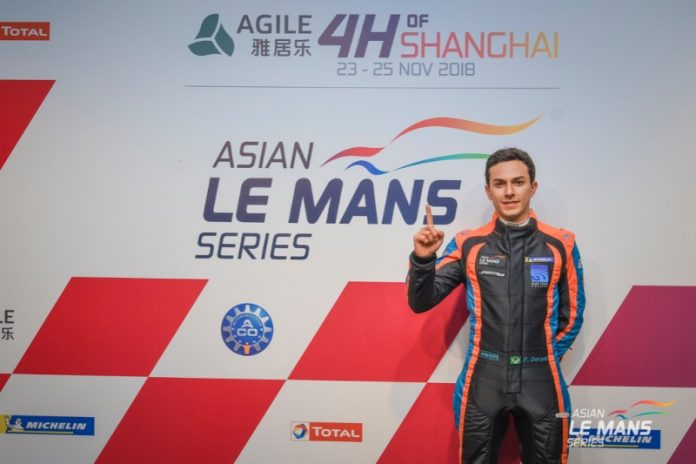 In a fast and frantic qualifying session, Pipo Derani has claimed pole position in the Spirit of Race Ligier JS P2 for the Agile 4 Hours of Shanghai. After regularly being the quickest driver on track throughout the 2017/18 season, Derani has been the driver to beat all weekend.
Behind him the qualifying times are very tight with 2017/18 Asian Le Mans Series Champion Harrison Newey in the #24 Algarve Pro Racing Ligier JS P2 in second, and 2016/17 LMP3 Champion Phil Hanson in third.
It will be Series newcomers Inter Europol, and Jakub Smiechowski that will lead the way in the LMP3 Class in their #13 Ligier JS P3. The Polish team have tasted success recently, winning the final round of the European Le Mans Series in the same class. In second place on the LMP3 grid will be 2016/17 LMP3 Class winner, Nigel Moore in the #65 Viper Niza Racing Ligier JS P3. Starting third in class will be the #2 United Autosports Ligier JS P3 driven by Wayne Boyd.
CLASS POLESITTERS:
LMP2 – #8 Spirit of Race, Pipo Derani, Ligier JS P2, 1:55.4 76
LMP3 – #13 Inter Europol Competition, Ligier JS P3, Jakub Smiechowski, 1:59.7 11
CLASS POLESITTERS:
GT3 – #88 TianShi Racing Team, Audi R8 LMS, Dries Vanthoor, 2:02.6 03
Porsche Endurance Cup Trophy – #16 Modena Motorsports, Porsche 911 GT3 Cup, Benny Simonsen, 2:08.4 01
In the second 15-minute qualifying session of the day, it was the #88 TianShi Racing Team Audi being driven by Dries Vanthoor that was quick from the start. The team has had a tough start to the season with an engine problem hitting their second Audi during private testing on Thursday. Since then they have managed to have a Mercedes AMG GT3 sent some 1000 miles from the team's base in Zhuhai to the track here in Shanghai. Having missed both free practice sessions they made it to the track just in time for qualifying. Max Wiser put in a solid lap to qualifying the car in 4th place in the GT class.
After not setting a lap time at the start of the session, James Calado put in a flyer with just one-minute left to set the second quickest time in the class in the #11 CarGuy Ferrari 488 GT3. In 3rd place, and just 0.089 of a second slower than Calado, was the second Ferrari 488, the #51 Spirit of Race Ferrari driven by Alessandro Pier Guidi.
In the Porsche Endurance Trophy, it was Benny Simonsen in the #16 Modena Motorsports, Porsche 911 GT3 Cup. Behind him was EKS Motorsports #59 entry of Lu Wen Long and the #21 OpenRoad Racing entry of Francis Tjia.
Tomorrow's race kicks off at 9:30am, with the live stream starting at 9am.
Driver quotes:
Pipo Derani: "I am really happy to be back for my second Asian Le Mans Series championship. Last year we had a nice time and finished second, so to start this weekend on pole couldn't be any better. We have been having a very good weekend so far. To be able to convert that to pole is good, to prove that in all the sessions we were going in the right direction.
"It's a pleasure to be sharing the car with Alex West and Côme Ledogar for the first time, which has been great since the beginning, we are having a lot of fun. A big thank you for my team, as soon as we got here, we already had a good car, a big hats off for those guys. The car rolled out of the truck – or more correctly the container here – with a good set up."
Jakub Smiechowski: "It is a great feeling, but for me that's not the most important thing. Tomorrow is the race, we try to concentrate on what is coming tomorrow. Martin and I will give our best tomorrow. The main goal for me is to be fast in the race, not in qualifying. I made a small mistake, there could have been more. The car felt pretty good, best from the whole weekend. It is a good place to have the best car."
Dries Vanthoor: "It is really nice to start on pole. It is still a four-hour race, anything can happen. It went really, really well, unexpected, to be honest. We were struggling in FP1 and FP2, it was hard to find the balance of the car. All the runs we had quite some fuel in, so we knew we had something in the bag, we didn't know we would be able to fight the Ferraris. We made the right changes. We nailed everything, set-up wise, we hit the peak with the tyre pressures. I do not think I could do that lap again, everything went the right way. Let's see for tomorrow, we just have to make no mistakes, and see where we end up.