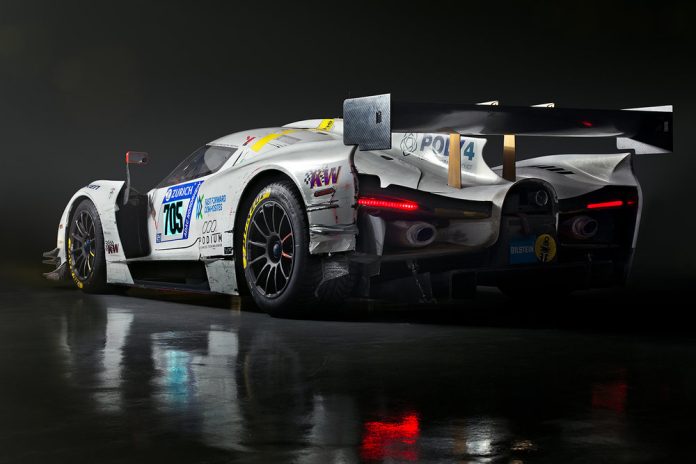 In the past 12 months we:
Won First in Class at the 2018 24 Hours of Nürburgring;
Committed to running the 24 Hours of Le Mans the WEC in the new Hypercar LMP1 class;
Secured a $25 million sponsorship to race the 2020-2021 WEC including Le Mans;
Finalized dealer agreements with Manhattan Motorcars and SCG Cars Southeast to be our East Coast Dealers to distribute and service our vehicles in 21 States;
Formed an alliance to create Glickenhaus North American Racing (GNAR), providing full customer race support and sales of all of our GT3/GT4/and LMP1 race cars for races around the world the including the SCG "004" GT3, "006" GT4 and the "007" LMP1 road racing vehicles as well as the Baja Boot off-road vehicle;
Announced, fully engineered, and started building the Glickenhaus Boot with Armada Engineering under the direction of Darrin Skilton;
Became a Michelin OEM;
Closed a deal and began engineering and design of our new factory in Danbury, CT to scale to 15 cars per week;
Became a licensed vehicle dealer in New York State;
Registered and sold our first NHTSA-approved 17-digit VIN Low Volume Vehicle;
Created a full-scale seating model of the 004 and created four iterations to optimize comfort, room, visibility, and driving experience. We finalized the design of exterior surfaces and interior structures of the 004 and we are undergoing engineering studies of the chassis and CFD studies of the surfaces;
Contracted with the same team that homologated Pagani and Koenigsegg vehicles to make our vehicles fully US and worldwide legal with full crash testing and airbags;
Shared early studies of our 006 Coupe and Spyder. Our plans are to race the Coupe as a GT4 in 2021;
Sold out of our 2019 Founders Boots, our 2019 003S', and our 2020 004S';
Studied the draft 2020 WEC/ACO Rules and began engineering a car to be built in the United States of America to compete at the 24 Hours of Le Mans for First Overall in the new LMP1 Hypercar class. We are working with the same team from Podium Technology who we have worked with since 2012. We hinted that we will offer a limited run of road-legal examples, and many of those are already sold;
Drove over 2,000 road miles and 200 flat out track laps on our 003S road car;
Shared these whole adventures with the world hosting journalists from as far away as South Korea, Japan, the UK, Germany, and Detroit, and sharing everything on social media as well as discussions with press and fans.
In the next 12 months we will:
Race the 24 Hours of Nürburgring with our 003C, and race and luxury tour the Baja 1000 with our Glickenhaus Boots;
Deliver 2019 Founders Boots, the 2019 003S', and begin deliveries on the 004S Founders cars;
Build and open our Danbury factory;
Finalize engineering on our LMP1 hypercar and begin engineering of the 006, and our 4-door Glickenhaus Boot;
Continue to share these adventures every step of the way.
Behind the scenes
We became a New York State Dealer so that we can sell our vehicles to our dealers.
We completely updated our website (Glickenhaus.racing) and our printed materials.
We created a fan gear store so people can show their support. (Team Store)
We submitted official comments to the State of California as a NHTSA-Approved Low Volume Vehicle Manufacturer
We notified NHTSA, and NHTSA approved that we have manufactured and sold our first 17-digit VIN 003S Low Volume Vehicle, and we registered that vehicle in New York State.
We notified NHTSA, and NHTSA approved our future low-volume vehicle models including the Glickenhaus Boot, the 006, and the 007, as well as a future possible top-secret project. (Our SCG 003 and SCG 004 and their variants were previously approved by NHTSA.)
We organized and shared thousands of photographs for personal use, and for the media. We just ask people tag us and the content creators (tags built into filenames). (Resources for Press)
Team
Jim Glickenhaus
Founder, Managing Member of SCG
Dreamer and builder of dreams.
• Created Ferrari P4/5 by Pininfarina
• The only private manufacturer to ever take the Pole at the 24 Hours of Nürburgring
• The only private manufacturer to win an FIA World Championship Alternative Energies Cup
Jesse Glickenhaus
Founder, Managing Director of SCG
Dreamer and manager of impossible projects.
• Changed 60% of the lights in Palau to be more energy efficient
• Written and passed a United Nations General Assembly Resolution about international peace and security
• Dad to three strong, independent girls, who want to help their dada build cars
Meg Cameron
Dreamer and Manager of Impossible Projects
Jim's wife, car enthusiast, and the "C" in Scuderia Cameron Glickenhaus
Michael Young
SCG Head Designer
After years of pursuing high performance car design, and a lifetime of loving machines (his first word as a child), Michael Young has been thrilled to join the SCG team as head designer. "Working directly with Jim to realize his goals has been such a privilege. Not only have I benefited from a complete wealth of insight about cars, history and culture, but also a community of rather incredible self driven individuals. My career started designing vacuums and PowerWheels, something of a backdoor entrance. Fitting, for a group that is all about rolling up sleeves, following the charge of a rouge visionary and redefining what is possible."
Luca Ciancetti and Podium Technologies:
The Young Engineers
Luca holds a MSc degree in Automotive Engineering and a PhD in Mechatronics from the Politecnico di Torino. He has an extensive experience in both racing and road vehicles design and development, as well as managing race teams in various series. His collaboration with SCG started in 2011 as battery design leader on P4/5C, race engineer on 003C chassis 1 in 2015 and technical director of 003C program from 2016. Today, as SCG race team manager and lead engineer for 004 and our LMP1 project, he works side by side with Jim Glickenhaus engineering true race cars for the road and taking care of race operations and race car development.
Darren Skilton
Glickenhaus Boot Project and Race Manager
Racer, OEM race prototyper, Guide
• Professional off-road race driver since 1993
• 6 Baja 1000 Class wins for Jeep and Kia
• 2 Dakar Rally Class wins with Ford Raptor and T1 prototype
• Managed OEM production race programs for Jeep, Kia, Honda
• Off-road driving and navigation instructor
• Consultant for OEM manufacturers on off-road performance projects
• Director Sonora Rally, the only North American Road to Dakar event
• Off-road tour guide for Aventura Travel
• North American liaison for the Dakar Rally 2001–2011
• Seeded FIA Driver for Cross Country Rallies
• Fluent in French and Spanish
Armada Engineering
Glickenhaus Boot Lead Engineer and Prototype Manufacturer
Engineers, fabricators, builders of off-road dreams.
• Leading manufacture of high performance off-road race vehicles
• Engineered and Manufactured vehicles competing in SCORE, Best in the Desert, King of the Hammers, Abu Dhabi Desert Challenge, Takilamikan Rally, Indonesia Xtreme Offroad Rally
• Many race wins across the globe
• Developed and manufactured innovative vehicle solutions for films such as Fast and Furious, Monster Trucks, and Lost in Space
• Sustained OEM Race programs for Ford and Oshkosh Defense
• Race team management for high profile clients such as Johnny Buss – Los Angeles Lakers
• Top level race vehicle prep and maintenance, logistics and track support based out of Los Angeles, CADarren and Elliot Bio from Boot deck
Manhattan Motorcars
Manhattan Motorcars is an award-winning New and Pre-owned retailer for Porsche, Rolls-Royce, Bentley, Lamborghini, Koenigsegg, Bugatti, and Lotus located in New York City. Respected as one of the most successful luxury and performance automotive dealers in the world, we have set unmatched records in sales and service continuously from 1995-Present. Our soaring Customer Satisfaction Scores reflect the professionalism and dedication to our clients and the lifestyle that Manhattan Motorcars has become known for. Our specialists demonstrate shared enthusiasm for supremely refined vehicles and can expertly navigate clients through every option. We offer a wide selection of quality Pre-owned automobiles as well as special commissioning programs. If you haven't experienced Manhattan Motorcars, it's time to treat yourself to the best. Call our friendly staff today to learn about our latest luxury vehicle specials, schedule a test drive, request a brochure, discuss your trade-in, or discuss financing options. We are here to help you.
Glickenhaus North American Racing
Glickenhaus North American Racing (GNAR) is a full service motorsports company offering sales, service, storage, concourse and track support as well as collector car advisory services focused on rare and collectable, sports, race and exotic automobiles. GNAR was formed through a strategic merger of F7 Motorsports, LLC of Sarasota, FL and Milestone Motorcars, LLC of Boynton Beach, FL. For further information visit: www.F7cars.com
The alliance between GNAR and SCG will enable SCG to fully develop and produce the Glickenhaus race vehicles including the SCG "004" GT3, "006" GT4 and the "007" LMP1 road racing vehicles as well as the Baja Boot off-road vehicle; all of which will have street legal versions for sale to the consumer marketplace and which will be available to pre-order and purchase through a network of SCG dealerships.
Glickenhaus North American Racing (GNAR) will offer racing support for SCG customers and teams throughout North America, along with partnership support for the Glickenhaus Racing Factory Team around the globe. With the added support from GNAR, in 2019 the Glickenhaus Racing Factory Team is planning to expand its schedule to participate in the "24 Hours of Nurburgring," IMSA, WEC and Le Mans racing series events for the road cars, along with "The Baja 1000" and "Dakar Rally" for the Glickenhaus "Boot." GNAR will also guide all corporate sponsorships for the SCG factory race teams.
With headquarters in West Palm Beach, Florida, GNAR will also have premiere SCG showroom and authorized service facilities in Sarasota and Palm Beach, FL., offering sales and comprehensive service of both race and "road legal" SCG cars including the SCG "007" LMP1 along with other SCG vehicles and will offer official SCG racing apparel, gear, and parts to consumers worldwide.
Tonja Adair
Architect for New Danbury Factory
A narrative builder, Tonja Adair is an architect and urban designer endeavoring to enhance how we filter and interpret the spaces around us and the environment we inhabit. She believes architecture has the ability to form meaning and provide relevance with attention to our viewpoints and context, the aesthetics of material and form, and the role sustainability can play in our futures.
Tonja Adair, AIA, is a principal at the NYC-Atlanta based Splice Design, a studio and design practice working across scales from interiors to buildings and urban design strategies. Their work has been exhibited and featured in various publications.
Tonja leads the NYC design initiatives, working to understand the role of design in creating a consciousness of the spaces surrounding us. Tonja serves on various civic and design-focused committees. She is past-president for nycobaNOMA, the New York chapter of the National Organization of Minority Architects, and is active in the AIANY Diversity + Inclusion Committee, and the AIANY WIA Committee. She currently serves as a Director for the AIANYS Board. Tonja has an MSAUD from Columbia University, an M.Arch from the Georgia Institute of Technology and a Bachelor of Arts from Wellesley College.
Why we are excited to work with SCG. SCG builds dreams! You are a group of passionate and dedicated artisans creating dreams for others. We love working with those whose enthusiasm for their craft reflects our own. It is a chance to create a "built" narrative for the company and those who enjoy your product! Looking forward to it!
Pinar Ozyigit
Dreamer Believer Thinker Maker
Working proudly for SCG's Creative Brand Marketing & Merchandising. Car fanatic who had Schumacher sign her pregnant belly in F1 Istanbul. Changed couple of laws in Turkey to increase rights of women. Experienced in digital and traditional media, strategic marketing and project management. Mom to three very creative, stubborn and brave kids. Entrepreneur. A happiest mediterranean who is in love with New England. Still studying for Innovation and Entrepreneurship at Stanford.
Laurie Souke
Graphic Designer
Laurie Keisling Souke is the owner and designer of Reinvent Design. She works to provide inspiring and professional designs with a commitment to quality and efficiency. "Working with Scuderia Cameron Glickenhaus (SCG) on their brochure and collateral was a dream job for a company that is itself building dreams!" Find out more about Reinvent Design on Facebook (@ReinventDesign.LaurieSouke)
Mel Garber
Structural Engineer for Danbury Factory
Mr. Garber has over 30 years of experience as a structural engineer. He was among the first engineers to respond as a rescuer after the September 11. He has designed numerous structures utilizing different building materials: steel,concrete, masonry, light gage, and timber. He has also worked on refurbishment and historic preservation projects.
His projects have ranged from memorials and home/office renovations to museums, schools and airport terminal construction. He has been involved in all aspects of the design and construction process from conceptual design to construction administration.
Sal Barone
Master. Collection Manager
Sal has a lifetime of experience making race cars and sports cars run better on the road. His skill and love are embedded in all of our projects and he brought Modulo to life.
Stephen Marques
"Junior"
Stephen is an experienced technician who is learning about the collection cars with Sal and also learning every nut and bolt on our new SCG's