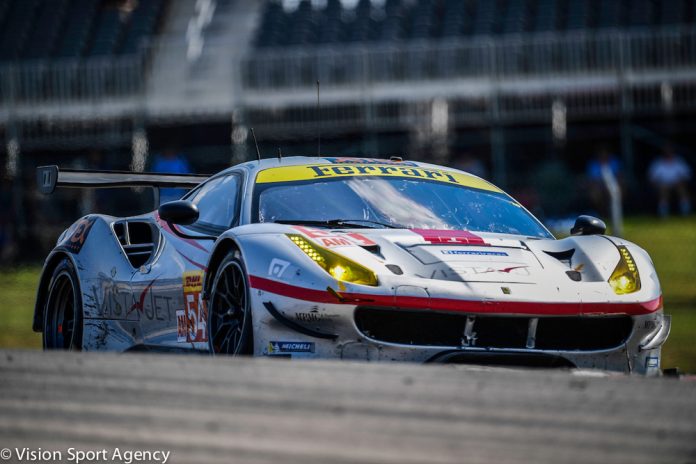 Giancarlo Fisichella, former Formula One driver with 229 Grand Prix conte- sted and two-time class winner at the 24 Hours Le Mans with Ferrari, has been announced as the third and nal driver to join the AF Corse managed Spirit of Race team in the 2018/2019 FIA World Endurance Championship (WEC) Super Season. Fisichella will join current team-mates Thomas Flohr and Fran- cesco Castellacci in the VistaJet and Bombardier sponsored Ferrari 488 GTE car, competing in the LMGTE-Am class.
Fisichella has over 25 years of professional racing experience and has driven for the very best teams in global motorsport. The majority of his experience has come from his time competing in Formula One, racing for brands in- cluding Ferrari, Sauber, Renault, and Force India and achieving 19 podium nishes and 3 wins.
The Italian driver made his GT racing debut in 2010, driving a Ferrari lined up by AF Corse in the Le Mans Series and has always been part of the Ferrari dri- vers for GT competitions. He will make his debut with the Spirit of Race team in April at the Prologue in Le Castellet (France) and will go on racing with the team across the world's most legendary circuits including Le Mans.
Welcoming Fisichella are Spirit of Race's existing team-mates, Thomas Flohr and Francesco Castellacci, who have raced together since 2012.
Thomas Flohr started his professional racing career for Spirit of Race in 2013 and since then has been a consistently strong competitor in the European Le Mans Series (ELMS) and FIA WEC with a number of impressive nishes.
press@spiritofrace.net Media
press@spiritofrace.net Media
These have included 9 podium nishes and 3 wins. Outside of racing, Flohr is also the Founder and Chairman of VistaJet, the rst and only global business aviation company.
Francesco Castellacci began his racing career in 2002 and since then has raced in some of the most reputable Formula and GT championships inclu- ding Formula 3, Porsche Supercup, GP2, Formula Renault 3.5 Series and FIA GT3 European Championship. His racing highlights include the victory of the European FIA GT3 Champion in 2011 achievieng also the European Le Mans Series Vice-Champion in 2015 and the Blancpain Endurance Series Pro-Am Vice Champion in 2014 all with the Ferrari GT cars.
Giancarlo Fisichella: "I am really excited to be joining Thomas, Francesco and the whole Spirit of Race family. The FIA WEC is one of the most thrilling and competitive series in the world and I'm very much looking forward to a successful season in this strong team. The new Ferrari 488 GTE has been fantastic to drive during the pre-season practice and it's going to be really exciting to get the most out of it in the ght on track!"
Thomas Flohr: "Having Giancarlo joining us is fantastic news for the team and I can't wait to start the season competing alongside him. Last year we made some excellent progress as a team, with the highlight being the win at Fuji, so I'm hoping that with Giancarlo's support we will be able to go on to even greater success!"
Francesco Castellacci: "It's a real privilege for me to be competing with one of the greatest Italian drivers of the last two decades. I've always loo- ked up to Giancarlo as an icon in the world of motorsport and I can't wait to achieve some great things with the Spirit of Race this season. Bring on the rst race!"