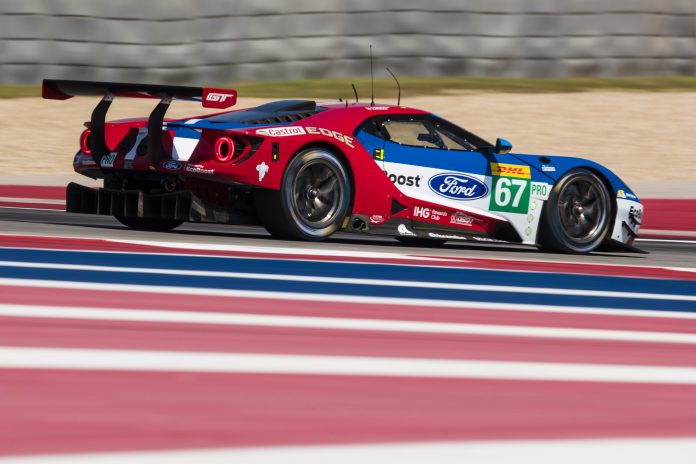 The Ford Chip Ganassi Racing team is ready to continue its battle with Ferrari for GTE manufacturer honours in the 2017 FIA World Endurance Championship. The #67 Ford GT of Andy Priaulx and Harry Tincknell will start tomorrow's "6 Hours of COTA" from the front row of the GTE grid after taking second place in qualifying and the sister #66 GT of Stefan Mücke and Olivier Pla will start from fifth position. The two Ferraris start first and fourth so the battle will be on from the moment the lights go green at 12:00hrs (local time) tomorrow.
The two Ford GTs have spent most of the practice sessions at the Circuit of the Americas in Austin, Texas, at the top of the timesheets so hopes were high before the qualifying session on Friday afternoon.
"The team and the drivers have all done a very good job this week," WEC Team Principal, George Howard-Chappell said. "We've been quick in the practice sessions and hoped to get on the front row of the grid. P2 is a great result for the championship-leading #67 car. The race is not necessarily going to be a reflection of qualifying; it will be about surviving the heat and getting the tyres to last."
The #67 Ford GT leads the driver's world championship so it is vital for Tincknell and Priaulx to take maximum points out of every event.
"It's great to be fighting at the front as it has been very hard to call all weekend," Tincknell said. "The heat creates an extreme environment and you don't know what everyone else is doing until you get to qualifying. I think we're in a good place. As always we are focusing fully on the race in order to take maximum points for our championship campaign so to still have good qualifying pace is great. The extra point for pole always helps but it wasn't there for us today. We're more competitive than we have been in the last few races, which is the main thing."
Despite not getting the grid position they wanted, Mücke and Pla are fired up for a good race tomorrow.
"We're a little disappointed as we had a good car balance this morning but the changing track conditions have really affected the balance of our car," Mücke said. "We couldn't get everything out of the car but we think we know what to change for the race. It's a long race in this heat and tyre management will be the key. We qualified with just one set of tyres so we are prepared for a good race."
The 6 Hours of COTA gets underway at 12:00hrs (local time) on Saturday, September 16.