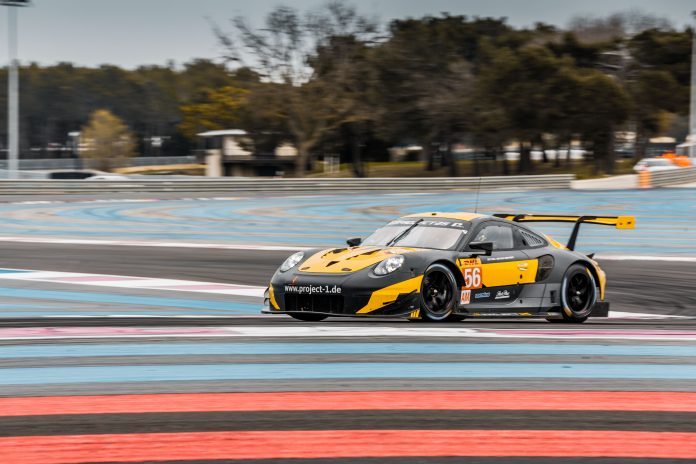 A new chapter in the Project 1 story began on 6 and 7 April at the Prologue in Le Castellet. The Porsche team competed in the FIA World Endurance Championship for the first time, backed by the driver trio of Jörg Bergmeister, Egidio Perfetti and Patrick Lindsey. The test weekend at Circuit Paul Ricard was all about establishing a positive team dynamic.
"We are very pleased with our first official appearance at the World Endurance Championship. Our primary concern was to find our rhythm. This starts with build-up and logistics and ends with pit stops. It was important for us to give Jörg, but above all Egidio and Patrick as much time on the track as possible, especially when it comes to riding in the dark", explains team principal Axel Funke.
With fourth place in the LM GTE AM-Class Project 1 showed a solid performance on its debut. The primary focal point for the Lohne-based team was to better understand the new Porsche 911 RSR. "On Friday we simulated a six hours race. The aim was to check the stability of the car. The results were 227 laps without any special incidents and a high constancy. Of course, there are always some teething troubles, but we have now identified these and will turn them off until Spa-Francorchamps", Funke sums up.
The testing schedule at the WEC Prologue was a brand-new feature for the series. For the first time, teams were able to test their cars over a period of 30 hours straight and therefore through the night. This enabled teams to conduct full 24-hour simulations. 12 of the 35 cars registered for the official test took part for the full duration.
The first race of the FIA WEC season takes place from 3 to 5 May, with the 6 Hours of Spa-Francorchamps in Belgium marking the first round of the Super Season.