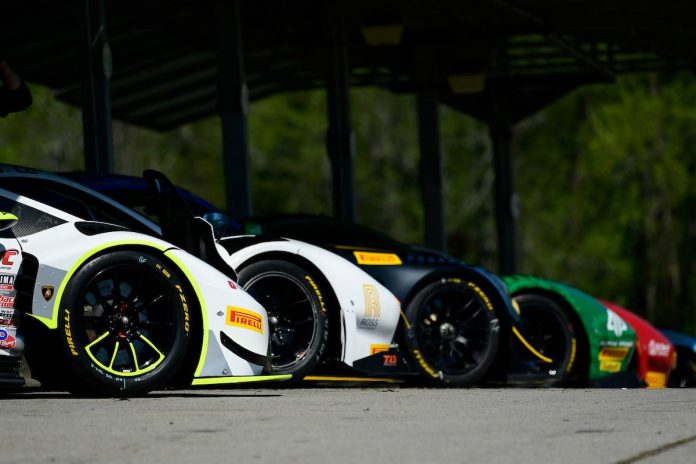 Circuit of the Americas is set to host the first round of the new Blancpain GT World Challenge represented by three individual championships in America, Europe, and Asia on March 1st – 3rd. Nearly doubling the size of the GT3 grid from a year-ago, Blancpain GT World Challenge America at COTA will showcase the latest GT3 machinery with teams and drivers from across the world represented in a mixture of classes including Pro, Pro-Am, and Am line-ups.
An All-Star Field Pro Field Headlines COTA
The Pro class features an all-star line-up of the top GT drivers in the world. Returning are 2018 GT Overall and SprintX Champions, R. Ferri Motorsport, who will defend their title with Toni Vilander and Miguel Molina in the #61 Ferrari 488 GT3.
K-PAX Racing will debut the new Bentley Continental GT3 with a familiar line-up featuring 2016 GT Champion Alvaro Parente and Andy Soucek in the #9 Bentley Continental GT3. Multi-race winner Rodrigo Baptista will share driving duties with Maxime Soulet in the #3 Bentley Continental GT3.
In similar fashion, Porsche debuts the new 911 GT3 R with Alegra Motorsports and Wright Motorsports. Alegra Motorsports brings a two-car effort led by long-time Porsche drivers Wolf Henzler and Marco Holzer in the #24. Fan favorite Daniel Morad will team with Michael De Quesada in the #22, moving the team into the Pro category. Wright Motorsports returns to World Challenge with two-time Champion Patrick Long and 2018 GT Sprint Champion Scott Hargrove in the #58.
Strong 11-car Pro-Am class promises action-packed races
The strength of customer-racing is on display with an eleven-car field of Pro-Am competitors. Mercedes-AMG features a four-car effort with new and returning teams. DXDT Racing has expanded to a two-car team fielding the #63 Mercedes-AMG GT3 for David Askew and 2018 SprintX Pro-Am Champion Ryan Dalziel. Former GTSA Champion George Kurtz joins DXDT to drive the #04 Mercedes-AMG GT3 with teammate Colin Braun.
P1 Motorsports moves up from GT Cup last season to contest Pro-Am with JC Perez teamed with GT standout Maxi Buhk in the #71 Mercedes-AMG GT3. New entrants US RaceTronics debut with Steven Aghakhani and former IndyCar driver Richard Antinucci in the #6 Mercedes-AMG GT3.
Porsche's Wright Motorsports will feature Anthony Imperato and Dennis Olsen in the #91 Porsche GT3 R. K2R Motorsports joins with Kevan Millstein and IndyCar alum Alex Barron behind the wheel of the #38 Porsche GT3 R.
The Acura NSX GT3 Evo returns full-time with Racers Edge Motorsports with Martin Barkley and Kyle Marcelli driving the #80 machine. Gradient Racing enters COTA with long-time World Challenge competitor Ryan Eversley, fresh off his 2018 TCR Championship, joining the Texas based squad and co-driving with Till Bechtolsheimer Ferrari is well represented in Pro-Am with two Ferrari 488 GT3 racecars entered. New team One11 Motorsports will field the #99 Ferrari 488 GT3 for Alfred Caiola and Matt Plumb. TR3 Racing returns with 2018 SprintX race winners Wei Lu and Jeff Segal in the #31 machine.
Completing the 11-car Pro-Am field is Stephen Cameron Racing, bringing the BMW M6 GT3 for Henry Schmidt and Greg Liefooghe piloting the #87 machine.
Competitive Am class with multiple returning Champions
Leading the Am class, 2018 SprintX Champions Martin Fuentes and Caesar Bacarella return for Squadra Corse Garage Italia driving the #7 Ferrari 488 GT3. They'll be faced with increased competition this season and start their title defense at COTA.
Fellow Ferrari entries are entered by Vital Speed Motorsports with father-son duo Rich and Trevor Baek behind the wheel of the #8 Ferrari 488 GT3. Texas based Risi Competizione feature a driver pairing of Pierre Mulacek and Anthony Lazzaro in the #82 car. One11 Motorsports Am is entered for a pair of Ferrari Challenge regulars, Christopher Cagnazzi and Brian Kaminskey, in the #19 Ferrari.
GMG Racing returns with Porsche to GT3 racing with multi-time World Challenge Champion James Sofronas driving with Brent Holden in the #14 Porsche 911 GT3 R. Autometrics Motorsports debuts with Joe Toussaint and Alan Metni in the #991 Porsche 911 GT3 R.
The season-kickoff at Circuit of the Americas presented by Euroworld Motorsports showcasing an exciting grid of GT3 competitors. On-track action begins Thursday, February 28th at 10:35am CST with Official Testing. March 1st and 2nd will feature two 90-minute races with driver changes and full-service pit stops for the first time.