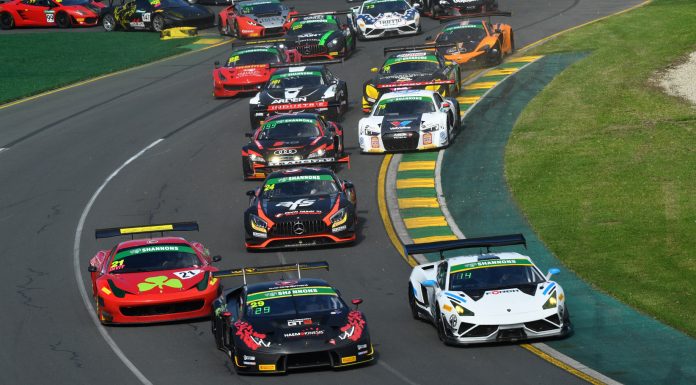 A 30-car field representing eleven of the world's leading automotive manufacturers will take to Albert Park on Thursday for the opening round of the 2018 CAMS Australian GT Championship.
The field features a diverse blend of exotic GT3 and GT4 machinery, with the GT4 Class making its first ever appearance in Australian championship competition.
Ginetta, BMW and Aston Martin are all set to make their GT4 debuts, while the iconic and popular Chevrolet Camaro makes a welcome return to Australian GT on the GT3 side of the ledger in Trophy Class.
Adding to the spectacle is a world class roster of drivers with Australian GT Champion Geoff Emery and Australian Endurance Champions Peter Hackett and Dominic Storey both on the grid.
Emery is joined by three-time 24 Hours of Le Mans winner Marcel Fassler, with the international flavour continuing courtesy of ex-Ferrari Formula 1 driver, and three-time grand prix winner, Giancarlo Fisichella alongside Peter Edwards.
Local stars have also come out in force, with household names like Tony D'Alberto, Dean Canto, and Craig Baird set to go to battle against a field brimming with talent and experience.
The Australian GT Championship has been a stable part of the support programme to the Formula 1 Rolex Australian Grand Prix for the last three consecutive years.
It's a popular event among fans and competitors, with a number of the world's leading automotive brands represented both in the Formula 1 pit lane and Australian GT field.
Four sprint races across the weekend will provide fans with thrilling lights to flag racing on every day of the event, with Thursday also boasting two qualifying sessions.
Free to air television coverage on Network Ten of Race 3 on Saturday will allow fans at home to enjoy the spectacle.
Action gets underway on Thursday with two qualifying sessions and the opening race of the weekend, the full schedule if enclosed below.
Entry List: Round 1, 2018 Australian GT Championship, Albert Park
No. Team Driver/s Car Class
1 Valvoline Geoff Emery
Marcel Fassler Audi R8 LMS Championship
3 Ah Apartments Ash Samadi Audi R8 LMS Championship
7 Byron Bay Beef Jerky Tony Quinn McLaren 650S Championship
8 WM Waste Management Max Twigg
Tony D'Alberto Mercedes-AMG Championship
24 Movienet/AFS Tony Bates
Daniel Gaunt Audi R8 LMS Championship
29 Haemokinesis Jim Manolios
Dean Canto Lamborghini Huracan Championship
59 YNA Autosport Fraser Ross McLaren 650S Championship
63 Eggleston Motorsport Peter Hackett
Dominic Storey Mercedes-AMG Championship
88 Maranello Motorsport Peter Edwards
Giancarlo Fisichella Ferrari 488 Championship
98 Aussie Driver Search Jaie Robson Mercedes-AMG Championship
100 BMW Team SRM Steve Richards
Dean Grant BMW M6 Championship
222 Scott Taylor Motorsport Scott Taylor
Craig Baird Mercedes-AMG Championship
911 Walkinshaw GT3 Liam Talbot
John Martin Porsche 911 GT3-R Championship
10 Hallmarc Michael Loccisano Porsche 991 GT3 Cup Trophy
12 Seidler Group Chris Seidler
Luke Seidler Porsche 991 GT3 Cup Trophy
21 Melbourne Orthopaedic Group Shane Barwood Porsche 991 GT3 Cup Trophy
23 Kentucky Fried Chicken Matthew Stoupas Audi R8 LMS Ultra Trophy
31 The Porsche Broker Sam Fillmore Porsche 991 GT3 Cup Trophy
32 The Porsche Broker Daniel Stuttered Porsche 991 GT3 Cup Trophy
34 Motorsport Leading John Morriss Porsche 911 GT3-R Trophy
47 Mack Bros Roofing Products Wayne Mack Ferrari 458 Trophy
64 Aaron Laboratories Joseph Ensabella Porsche 997 GT3 Cup Trophy
71 Dale Paterson Motorsports Dale Paterson Chevrolet Camaro Trophy
77 JJA Consulting Group Jan Jinadasa Lamborghini Gallardo Trophy
188 EAT Furniture Rio Nugara Audi R8 LMS Ultra Trophy
199 Industrie Nick Kelly Audi R8 LMS Ultra Trophy
4 BMW Team SRM Xavier West BMW M4 GT4
19 Hogs Breath Café Mark Griffith Ginetta G55 GT4
48 Interlloy M Motorsport Justin McMillan KTM X-Bow GT4
67 JMG/Bilstein Jeremy Gray Aston Martin Vantage GT4
Australian GT Championship track schedule*
Thursday, March 22
11:50 – Qualifying 1, Driver 1 (20mins)
15:20 – Qualifying 2, Driver 2 (20mins)
18:00 – Race 1, Driver 1 (11 laps)
Friday, March 23
10:45 – Race 2, Driver 2 (10 laps)
Saturday, March 24
12:00 – Race 3, Driver 1 (11 laps)
Sunday, March 25
12:00 – Race 4, Driver 2 (11 laps)
*dates and times subject to change
2018 Australian GT Championship calendar
March 22-25: Formula 1 Rolex Australian Grand Prix (Sprint)
April 14-15: The Bend Motorsport Park (Endurance)
May 12-13: Sandown Park (Sprint)
June 1-2: Phillip Island (Endurance)
August 4: Sydney Motorsport Park (Sprint)
October 13-14: Hampton Downs (Endurance)