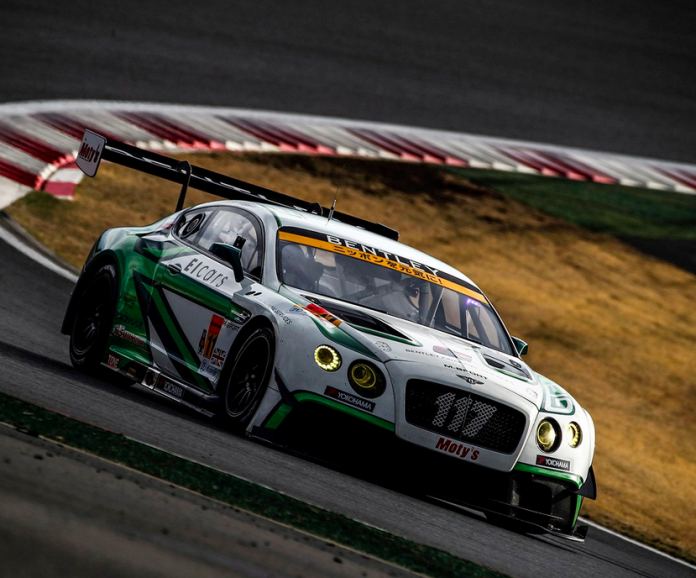 Bentley's Japanese customer team, EIcars Bentley, has announced an unchanged driver line-up for this season's Super GT Series by confirming that Yuji Ide (JPN) and Ryohei Sakaguchi (JPN) will once again share the outfit's Continental GT3.
It will be the second season that the Continental GT3 has contested Japan's premier sportscar championship after EIcars Bentley, Ide and Sakaguchi also competed throughout 2017 – vital continuity for the team to be competitive in what is considered one of the world's toughest GT3 series.
The Continental GT3 – competing in a 'GT300' class that combines internationally recognised GT3 cars with JAF-GT and GT300-spec machinery only found in Japan – will be up against 28 other entries from 12 manufacturers.
Both drivers have significant Super GT experience. Ide finished second in the GT300 championship in 1999 and was also runner-up in Japan's national single-seater series, Formula Nippon, in 2005 which led to a subsequent Formula 1 deal with the Super Aguri team.
Meanwhile, Sakaguchi has dovetailed his Super GT300 career with Asian Le Mans Series outings and a Sepang 12 Hours class podium in recent years.
Ide and Sakaguchi will also be joined by factory-contracted Bentley Boy Jules Gounon for Super GT's showpiece 500-mile race at Fuji on August 4/5. The 23-year-old Frenchman, who was added to Bentley Team M-Sport's Blancpain GT Series Endurance Cup and Intercontinental GT Challenge roster earlier this year, tested with EIcars Bentley at the same venue two weeks ago in preparation for his Super GT debut.
EIcars Bentley will campaign the first-generation Continental GT3 alongside Bentley's carefully selected global customer teams, including Team Parker Racing, which has entered cars in the Blancpain GT Series and British GT Championship, and K-PAX Racing, which is representing Bentley in North America in Pirelli World Challenge.
A designated Bentley Racing engineer has been assigned to each team this season. Based in Crewe but attending every race, their expertise will ensure customers extract the most potential and performance from their Continental GT3s, no matter where they compete around the world.
Bentley's Director of Motorsport, Brian Gush: "After a solid first season as an official Bentley customer team in 2017 I've got high hopes for EIcars Bentley in Super GT this year. The championship is incredibly tough but the first-generation Continental GT3 is a proven all-round performer that has demonstrated its potential all over the world. 2017 was certainly a learning experience for the team and drivers, but they will now benefit from the data gathered at each circuit last season and hopefully translate that into some headline results. Our engineering team here at Crewe will also play a hands-on role in the customer programme, just as they are in Europe and America."
Elsewhere, Bentley Team M-Sport has been tasked with racing and developing the second-generation Continental GT3 in the Blancpain GT Series Endurance Cup and Intercontinental GT Challenge this season ahead of the new car joining the wider roster of customer teams in 2019.
Super GT's eight-round championship, which includes one race staged in Thailand, begins this weekend at Okayama (April 7/8).
DRIVER QUOTES
Yuji Ide: "I am very excited to drive our Bentley Continental GT3 again in the Super GT Series, especially alongside the young and talented driver Jules Gounon. Not only us, but our team members and also many Japanese race fans look forward to seeing the Bentley return and will welcome Jules in August. I think we will get some good results this year."
Jules Gounon: "The Fuji test was fantastic, and a great opportunity to discover Japan, the circuit and championship, all of which are completely new to me. It was amazing to see so many fans there just for a test as well as the wide variety of cars, which are very well prepared. It's no surprise that Super GT is such a tough series. The test itself went really well and, from what I saw over the two days, it's also clear what a professional outfit EIcars Bentley are. My two co-drivers are also really quick so hopefully we can build towards a good result together at Fuji later this year."