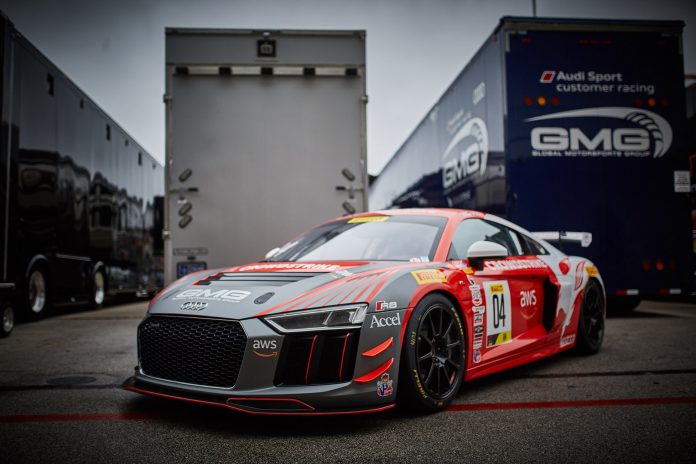 The second prong of CrowdStrike Racing's 2019 campaign in the Blancpain GT World Challenge Americas series gets underway this weekend on the streets of St. Petersburg, Florida.
The opening of the Pirelli GT4 Americas Sprint Championship on the west Florida coast sees CrowdStrike as presenting sponsor, competing on the track with driver CJ Moses and hosting a group of cybersecurity experts at the series' GT Paddock Club sponsored by CrowdStrike.
The array of activation shows the impact CrowdStrike has made in the World Challenge Americas paddock since its introduction to the series in 2016. That also includes CrowdStrike's position as the Official Internet and Cloud Security Provider for the SRO America Championships.
On the track, CrowdStrike will return to GT4 competition for 2019 with the professional racing debut of CJ Moses, who will compete in four races this season. Moses will drive the No. 04 CrowdStrike/AWS/GMG Racing Audi R8 LMS GT4 in races that start at 4 p.m. ET on Saturday and 11:20 a.m. ET on Sunday. Each will be streamed live on world-challenge.com.
St. Petersburg is the first of a quartet of events where Moses will compete in 2019, some of which will also play host to CrowdStrike's one-of-a-kind CXO Summit gatherings.
At St. Petersburg, cybersecurity experts will gather to discuss trends within the industry as well as enjoy first-class hospitality as guests of CrowdStrike with CrowdStrike CEO and co-founder George Kurtz onsite to speak at the summit.
The St. Petersburg market is an ideal one for CrowdStrike. Nestled in the middle of Florida's panhandle on the Gulf Coast, the area is a high-tech one with a number of leading companies calling St. Petersburg home.
The 1.8-mile, 14-turn street course in St. Petersburg has little margin for error with concrete barriers lining the course, creating close-quarters racing throughout the field. It will challenge not just GT4 Americas competitors but also the IndyCar Series, as well.
A former SCCA Divisional Champion and Audi Club Instructor, Moses is eager to put lessons learned during his last 10 years of competition to good use. He tested with GMG Racing two weeks ago at Circuit of The Americas to better familiarize himself with the Audi R8 LMS GT4 ahead of the streets of St. Petersburg. He will be part of a 20-car GT4 field for his first-ever outing in this global series.
"I had a great day testing the CrowdStrike Racing/AWS Audi R8 at COTA. It was a great time," Moses said. "I had to knock the rust off from the offseason, but now that the winter is over I'm feeling great. The car is amazing. GMG has set it up perfectly. Now all we have to do is continue to get faster for St. Petersburg. We're looking forward to a great event and hopefully put the car on the podium."