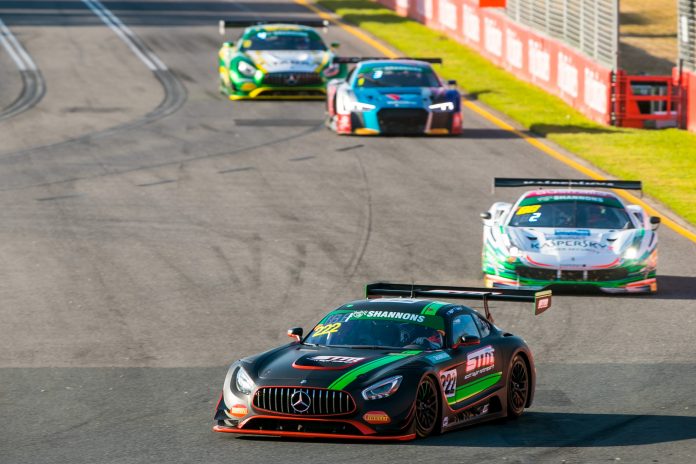 In stark contrast to Friday's twilight race, the third outing was in pouring rain where Craig Baird led from start to finish.
Saturday's race began behind a safety car and finished behind one as well.
While Baird dictated terms out in front aboard the Scott Taylor Motorsport Mercedes-AMG GT3, Marcel Fassler (Audi R8 LMS) chased and passed Giancarlo Fisichella (Ferrari 488) to finish second while Fisichella, the Australian Grand Prix winner in Melbourne in 2005, was eventually relegated to fourth by John Martin (Porsche 911 GT3-R).
The treacherous conditions saw Jan Jinadasa (Lamborghini) spin and contact the concrete on lap three, and on the next tour Ash Samadi crashed his Audi.
That brought out the safety car, under which the race was finalised after eight of the eleven scheduled laps.
Steve Richards brought his BMW M6 across the line fifth ahead of Dominic Storey (Mercedes), Fraser Ross (McLaren 650S), Dean Canto (Lamborghini Huracan) and Jaie Robson (Mercedes).
Tenth and first in Trophy Class was Nick Kelly (Audi) this time ahead of the Audis piloted by Matt Stoupas and Rio Nugara while John Morriss was fourth.
Within that class, the unofficial battle between the Porsche GT3 Cup Cars was claimed by Shane Barwood over Michael Loccisano.
The GT4 Class was taken out be Justin McMillian in the KTM X-Bow, beating Xavier West (BMW M4) and the winner of the previous race, Jeremy Gray (Aston Martin).
DRIVER QUOTES
Craig Baird: "We made some changes for the wet race and really I wanted to win by more.
"To keep the calibre of Fisichella and Fassler behind me has been the focus this weekend, and so far it has worked out."
Nick Kelly: "Had a really race with some really respectful bunch of guys.
"I had to be mindful that there were championship cars around me and those I was in front of were not pushy in trying to get past.
"Great to get a third Trophy win, it has been a great weekend so far."
RACE THREE RESULTS (8 laps)
1 Craig Baird (Mercedes-AMG GT3) CH 12:28.25
2 Marcel Fassler (Audi R8 LMS GT3) CH +0.3228
3 John Martin (Porsche 911 GT3-R) CH +0.9274
4 Giancarlo Fisichella (Ferrari 488 GT3) CH +1.3690
5 Steven Richards (BMW M6 GT3) CH +2.2242
6 Dominic Storey (Mercedes-AMG GT3) CH +2.6191
7 Fraser Ross (McLaren 650S GT3) CH +3.069
8 Dean Canto (Lamborghini Huracan GT3) CH +3.7901
9 Jaie Robson (Mercedes-AMG GT3) CH +4.3599
10 Nick Kelly (Audi R8 LMS Ultra GT3) TR +5.3637
11 Tony Quinn (McLaren 650S GT3) CH +5.78.45
12 Dan Gaunt (Audi R8 LMS GT3) CH +6.4101
13 Matt Stoupas (Audi R8 LMS Ultra GT3) TR +7.3573
14 Rob Nugara (Audi R8 LMS Ultra GT3) TR +8.9036
15 John Morriss (Porsche 911 GT3-R) TR +11.3687
16 Shane Barwood (Porsche 991 GT3 Cup) TR +12.3979
17 Michael Loccisano (Porsche 991 GT3 Cup) TR +13.5959
18 Sam Fillmore (Porsche 991 GT3 Cup) TR +14.9027
19 Dale Paterson (Chevrolet Camaro GT3) TR +15.2549
20 Justin McMillan (KTM X-Bow GT4) GT4 +17.3875
21 Joseph Ensabella (Porsche 997 GT3 Cup) TR +19.0060
22 Nick Karnaros (Porsche 997 GT3 Cup) TR +20.6945
23 Xavier West (BMW M4 GT4) GT4 +21.6682
24 Luke Seidler (Porsche 991 GT3 Cup) TR +23.1514
25 Jeremy Gray (Aston Martin Vantage GT4) GT4 +25.0509
26 Mark Griffith (Ginetta G55 GT4) GT4 +25.2277
27 Wayne Mack (Ferrari 458 GT3) TR +26.4773
28 Daniel Stutterd (Porsche 991 GT3 Cup) TR +33.0514
DNF Ash Samadi (Audi R8 LMS GT3) TR 3 laps
DNF Jan Jinadasa (Lamborghini Gallardo GT3) TR 2 laps