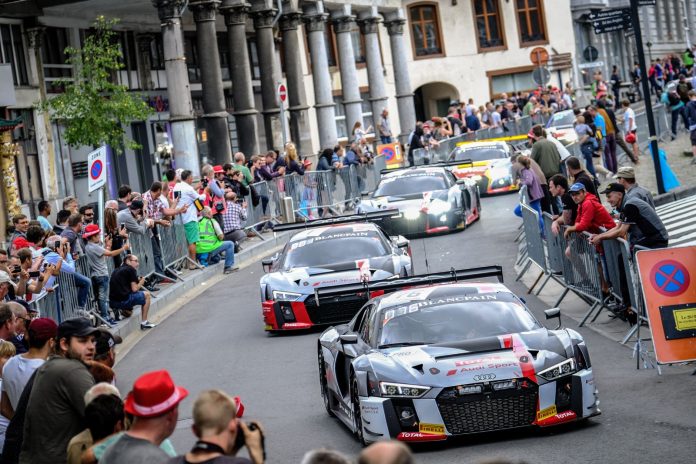 The inaugural Suzuka 10 Hours will include a GT3 supercar parade through the city centre on August 23 ahead of Asia's Intercontinental GT Challenge round.
The full entry, which currently stands at 30 GT3, GT300 and JAF GT-spec cars built by 12 manufacturers, will travel by road from the circuit to AEON Mall. While most will then return to the circuit in preparation for the event's first track action, a selection of cars will remain in the city centre throughout the afternoon.
Further activities, such as pitstop practice and freestyle motocross, are also planned as part of Thursday's motorsport parade, which provisionally sees cars leaving the circuit at 11:30 and arriving at AEON Mall by 12:00.
The parade takes its inspiration from another Intercontinental GT Challenge round, the Total 24 Hours of Spa, where cars and drivers travel from the circuit to the historic town via public roads (pictured above).
Indeed, Intercontinental GT Challenge organisers, SRO Motorsports Group, have worked closely with their Suzuka 10 Hours counterparts at Mobilityland to replicate the spirit of Spa-Francorchamps' historic parade while also introducing new elements.
Meanwhile, the Awa-tora fan festival is sure to keep spectators old and new entertained on both Saturday and Sunday.
The name is an abbreviation of the party's two core elements: foam (awa) and trucks (tora)! Organisers are eager to create a festival atmosphere at the Suzuka 10 Hours, which will include an Ibiza-inspired foam party lit by Japan's traditional Dekotora – extreme custom-designed lorries decorated with neon lights and artwork (pictured below).
ABOUT THE SUZUKA 10 HOURS
The Suzuka 10 Hours, which becomes Asia's sole leg of the Intercontinental GT Challenge this season, is being jointly administered by SRO Motorsports Group, Super GT organisers GT Association, and Suzuka's management company Mobilityland Corporation.
Uniquely, the race offers FIA GT3 cars from all over the world an opportunity to compete equally against Japanese teams running similar machinery and the JAF GT-spec chassis only found in Super GT's GT300 category.
August's 47th Summer Endurance Race builds on the legacy of Suzuka's previous 1000-kilometre event. Although best known previously as Super GT's blue riband round, the race has also featured on the FIA GT Championship, BPR Series, World Sportscar Championship and All-Japan Sports Prototype Championship schedules since its establishment in 1966.
Pirelli has been chosen as the event's official tyre supplier while prize money totalling 100-million Yen has also been confirmed.
The Total 24 Hours of Spa hosts round two of this year's Intercontinental GT Challenge on July 26-29 before the Suzuka 10 Hours takes centre stage one month later (August 24-26). The Laguna Seca Raceway California 8 Hours closes out the campaign, which began in February at the Liqui-Moly Bathurst 12 Hour, on October 26-28.