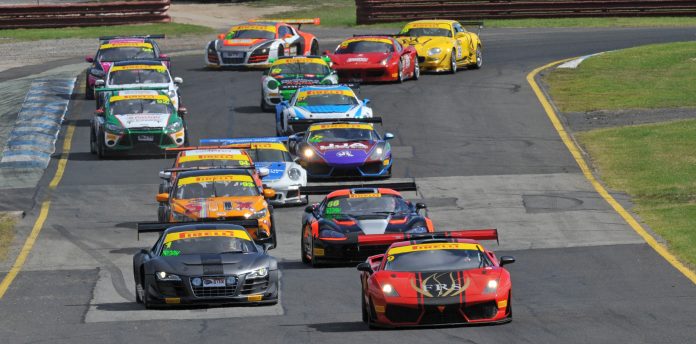 Rob Smith headlines a packed field for the opening round of the 2017 CAMS Australian GT Trophy Series presented by Pirelli at Sandown next weekend.
The Audi Sport Customer Racing driver, who clinched the title in a nail-biting finale at Phillip Island last season, will proudly display the #1 on the door at the head of an 18-strong field which also includes Challenge Class champ Scott Hookey, and Jake Camilleri, winner of the inaugural MARC Class title.
Smith will be face all-new competition in 2017, with Trophy Class boasting a 12-car pack with entries from Audi, Lamborghini and Ferrari.
Australian GT Championship race winners Rod Salmon and Steve McLaughlan will make their respective Trophy Series debuts at Sandown, Salmon piloting the iconic blue and pink Audi R8 Ultra and McLaughlan lining up in the familiar #75 entry.
The Audi challenge doesn't end there, with Rick Mensa climbing aboard another of the Audi Sport Customer Racing entries.
After competing in the 2016 CAMS Australian Endurance Championship alongside Liam Talbot, young charger Jake Fouracre will join Rio Nugara in what is set to be one of the most exciting combinations on the grid while Whitlock Bull Bars driver Con Whitlock, who competed in the inaugural Trophy Series event at Sandown in 2016, returns in his Audi R8 Ultra.
The monumental eight-car entry for Audi is completed by local racer Gary Higgon and Matthew Stoupas aboard the Kentucky Fried Chicken R8 LMS, and Travers Beynon who will once again take the wheel of the #17 entry.
Fresh from competing in the CAMS Australian GT Championship at Albert Park, Wayne Mack will lead the Ferrari charge in the Mack Brothers Roofing Products 458 GT3.
Jan Jinadasa is poised to return aboard the JJA Consulting Group Lamborghini Gallardo, while Richard Gartner and the Safe-T-Stop crew have switched from Porsche to Lamborghini during the off-season.
Looking to take the fight to 2016 Challenge Class winner Scott Hookey, Emanuel Mezzasalma is set to step up from state level racing for his first taste of Australian GT competition.
The Harcourts Epping Porsche has already seen track action in 2017, though Mezzasalma will have his work cut out against the 2016 class champ in the Fiorano Motorsport Ferrari 458 Challenge.
Four entries from MARC Cars Australia will see Jake Camilleri looking to kick off his 2017 campaign against stiff opposition, including the experienced Keith Kassulke, and John Goodacre (Gap Solutions / SEKTOR), who got his first taste of Trophy Series competition towards the end of 2016.
One final driver is yet to be named in what is already an enthralling lineup for the Australian-built endurance racers.
A sole KTM X-Bow, entered for Justin McMillan and Dean Koutsoumidis, will give the iconic GT4 machine its Australian GT race debut.
When the unique Interlloy M Motorsport X-Bow takes to the circuit at Sandown it will become the first entry after officials last year confirmed GT4-specification vehicles would be a welcome addition to Trophy Series grids for 2017.
An improved live stream is also poised to showcase the CAMS Australian GT Trophy Series presented by Pirelli action better than ever before with both Sunday's two 50-minute races set to be shown live, free and in full across the globe via the Shannons Nationals website.
Fans looking to experience the action in person will be able to purchase tickets at the gate for $15 on Saturday, $25 on Sunday, with free entry on Friday.
Track action gets underway on Friday for practice, before two qualifying sessions on Saturday (April 8).
The weekend then concludes on Sunday with two 50-minute races as part of the opening round of the 2017 CAMS Australian GT Trophy Series presented by Pirelli.
Round 1 Entry List
#    Team    Car    Drivers
1    Audi Sport Customer Racing    Audi R8 LMS Ultra    Rob Smith
6    Audi Sport Customer Racing    Audi R8 LMS Ultra    Rod Salmon
10    Harcourts Epping    Porsche 997 Cup Car    Emanuel Mezzasalma
17    Freechoice    Audi R8 LMS    Travers Beynon
22    Audi Sport Customer Racing    Audi R8 LMS    Rick Mensa
23    Kentucky Fried Chicken    Audi R8 LMS    Gary Higgon/Matthew Stoupas
33    Fiorano Motorsport    Ferrari 458 Challenge    Scott Hookey
48    M Motorsport Interlloy    KTM X-Bow    Justin McMillan/Dean Koutsoumidis
66    Gap Solutions/SEKTOR    MARC Focus V8    John Goodacre
69    Safe-T-Stop    Lamborghini Gallardo LP600    Richard Gartner
72    Whitlock Bull Bars    Audi R8 LMS    Con Whitlock
75    Audi Sport Customer Racing    Audi R8 LMS Ultra    Steve McLaughlan
77    JJA Consulting Group    Lamborghini Gallardo LP560    Jan Jinadasa
88    Audi Sport Customer Racing    Audi R8 LMS Ultra    Rio Nugara/Jake Fouracre
91    MARC Cars Australia    MARC Focus V8    Keith Kassulke
93    MARC Cars Australia    MARC Mazda V8    Jake Camilleri
94    MARC Cars Australia    MARC Mazda V8    TBC
147    Mack Bros Roofing Products    Ferrari 458 GT3    Wayne Mack
Track Schedule
Friday, April 7
14:05 – Practice (30 minutes)
Saturday, April 8
10:05 – Practice (30 minutes)
12:40 – Qualifying 1 (20 minutes)
14:00 – Qualifying 2 (20 minutes)
Sunday, April 9
10:50 – Race 1 (50 minutes)
14:40 – Race 2 (50 minutes)