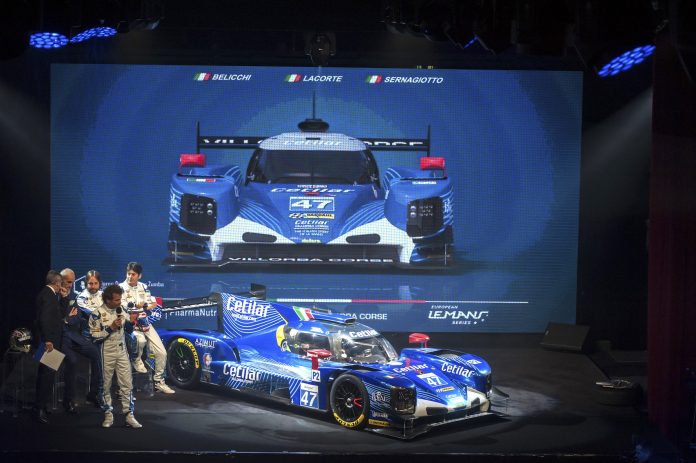 Italian team presented the LMP2 prototype that is going to compete in the 24 Hours and in the 2018 European Le Mans Series with Lacorte/Sernagiotto/Belicchi for the second season in a row. Amadio: "We started from a big dream, now we are expecting confirmations and even more competitive challenges"
Treviso (Italy), April 5, 2018. On Wednesday, April 4 inside such an exclusive place as "Ruote da sogno" in Reggio Emilia Cetilar Villorba Corse unveiled their new Dallara P217 Gibson that will take part in the entire European Le Mans Series and, next June, in the 24 Hours of Le Mans for the second season in a row. Team principal Raimondo Amadio and racing drivers Roberto Lacorte, Giorgio Sernagiotto and Andrea Belicchi explained the details of their "Italian Spirit of Le Mans" 2018 endurance programme and uncovered the LMP2-class prototype with its new (and more blue) "Cetilar" livery. Representing Dallara, chief designer Luca Pignacca also attended at the event revealing some technical details and new aerodynamic solutions. Cetilar Villorba Corse is now ready to officially open the season as the Italian team will get back on track in Le Castellet where the Paul Ricard circuit is about to host the official tests (April 9-10) and the first round (April 15) of the 2018 European Le Mans Series.
Team Principal Amadio says: "In 2017 our 'Italian Spirit of Le Mans' made a dream come true but now is the time of confirmations. We are aware that it will be a very demanding season. The general level, both in the series and at Le Mans, has risen considerably. We will need different ways to work inside the team, which actually will have a specific configuration for each programme. In the 24 Hours of Le Mans we aim to see the finish line, possibly in the top ten, again, while in the ELMS our goal is to be a major contender, at least among the crews with at least a bronze driver as they will be given a new trophy on podium at the end of each event".