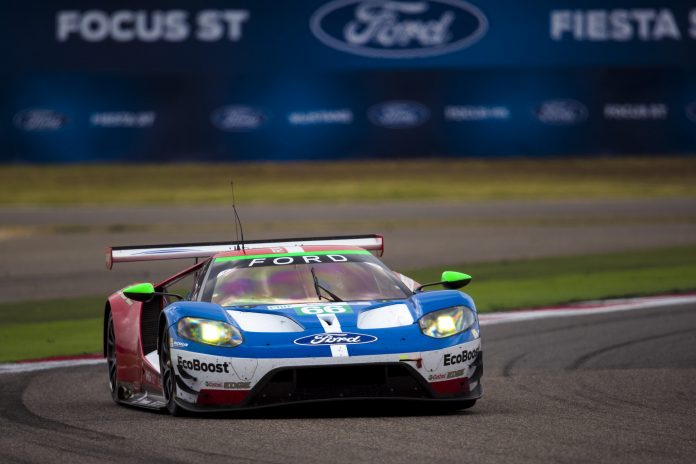 The Ford Chip Ganassi Racing team is on the hunt for a hat-trick this weekend as it heads to Shanghai in China for round five of the 2018-19 FIA World Endurance Championship.
Shanghai has been a happy hunting ground for the Ford GT, scoring a 1-2 in its first year in the WEC in 2016, before taking the win again last year.
"The last race (at Fuji) was incredibly close and we expect this next one to be exceptionally close too," said team principal George Howard-Chappell. "The Fuji result didn't do Stefan and Olivier's championship fight any favours so they will be pushing hard to get a good haul of points this time out. Andy and Harry have won every time we've been to Shanghai so I wouldn't bet against them doing it again. There is a long break after Shanghai before the next round at Sebring in 2019, so it would be good to go into the winter with a strong result."
Mücke and Pla got their season off to a flying start at Spa with a win but since then the podium has stayed out of reach. They want to score as many points as possible this weekend to get their championship challenge back on track.
"We're hoping that things will go our way in China," Pla said. "Fuji was very frustrating as we have the pace to be on the podium, but the results are not going our way at the moment. It's important that we all stay positive and keep pushing as hard as we have been to turn things around in China. We have a strong team behind us and I think we will have a good weekend."
Priaulx and Tincknell know how to win in Shanghai. They had to fight for it last year and they know it's going to be closer than ever this time around.
"We have many good memories from Shanghai as we're undefeated there," Tincknell said. "I remember Andy and I turned up in 2016 having never seen the track before and struggled initially before grabbing pole position and converting that into a win, which was very sweet.
"Last year was the toughest win of my career. It was a topsy-turvy race with lots of different tyre strategies going on. Andy had to make some great passes when he had the new tyres and I had to defend for my life lap after lap when I had the old tyres. I remember just taking it corner by corner, holding off the Porsche, counting down the laps until I could get on some fresh rubber. It was absolutely exhausting being attacked from all sides but that made it even sweeter when we took the win. We're going for the 'three-peat' this weekend!"
Ford currently lies in second place in the Manufacturers' World Championship. In the Drivers' World Championship, Mücke and Pla are in second place whilst Priaulx and Tincknell are seventh. The 6 Hours of Shanghai gets underway on Sunday, November 18, at 04:00 CET.