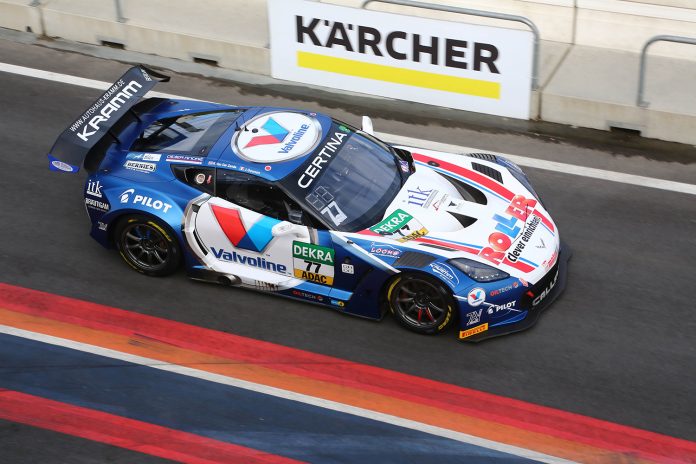 The Swabian racing team Callaway Competition once again has to fall back on a replacement driver to start in the ADAC GT Masters on the Nürburgring. Regular Callaway driver Daniel Keilwitz remains unable to take the wheel of the Corvette C7 GT3-R for health reasons. Albert Costa will team up with Jules Gounon in the fight for championship points.
Due to Daniel's injury after a test day at Spa-Francorchamps, Daniel couldn't drive at Zandvoort and he will not be taking the wheel on the Nürburgring either. "We value Daniel very much. Healing his leg comes first," team owners Giovanni Ciccone and Ernst Wöhr say with understanding. "Of course we hope this was the last time we had to look for a replacement driver. Hopefully Daniel will be fit again for the next race on the Sachsenring."
Blancpain GT Series driver by Jules Gounon's side
For the racing weekend on the Nürburgring, the team has taken Spanish racing driver Alberto Costa on board to join the fight for the championship.
The 27-year-old is currently driving one of the two Emil Frey Jaguar GT3s in the Blancpain GT Series. "Albert made a good impression on us," say Ciccone and Wöhr. "He is fast and will fit in with the team quickly. We are pleased to welcome him to the team and look forward to working with him."
Jules Gounon is the current championship leader with 113 points
Callaway Competition engaged Renger van der Zande as a replacement driver in Zandvoort. The team won the first race on Saturday. Currently the French Callaway Competition driver Jules Gounon is the championship leader in the ADAC GT Masters with 113 points. Last weekend he performed well outside the "league of super sports cars" as well. The 22-year-old and his two fellow drivers celebrated the overall win in the 24-hour race in Spa-Francorchamps, Belgium. "We congratulate Jules on his win," the two team owners say, pleased about their protégé's successes.
For Jules Gounon, his new partner and the Callaway Competition team, things get underway this coming Friday with the first open training for the ADAC GT Masters weekend on the Nürburgring (4 to 6 August 2017).