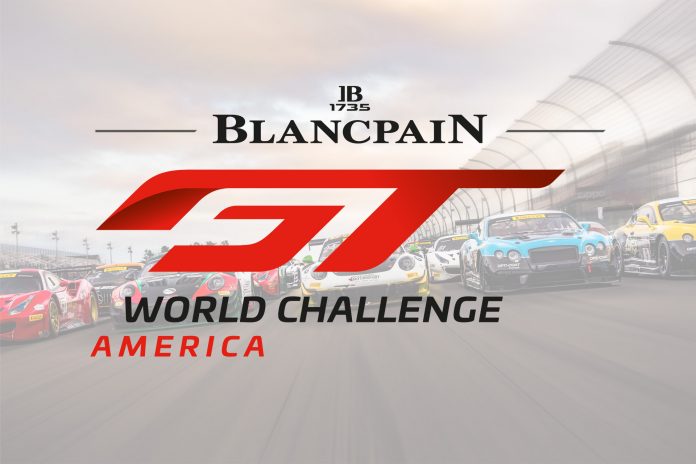 Recently announced by SRO Motorsports Group, the new Blancpain GT World Challenge will present GT3 manufacturers, partners, and teams the opportunity to compete in a worldwide custom racing championship like no other. With series in America, Europe, and Asia, each will retain its present status as individual championships while scoring points in the competitive arena of international customer racing.
Heading into 2019, SRO Motorsports America announced sweeping enhancements to its premier championship – Blancpain GT World Challenge America. The new look GT category aims to increase participation, create excitement with drivers and fans, control costs, and build a new foundation for GT3 homologated machines to race on the highest stage and fight for overall wins.
Today, the championship features a plethora of supercars from Acura, Audi, Bentley, BMW, Ferrari, Lamborghini, McLaren, Mercedes-AMG, Nissan, and Porsche competing in a fourteen-round championship at seven of the top circuits in North America. Driver classes have designated divisions with Pro (Platinum, Gold and Silver FIA driver ratings), Pro/Am (Pro driver and Bronze driver), Silver (Silver and Silver drivers) and Am (Bronze and Bronze drivers) eligible for 2019.
After speaking with the paddock and key stakeholders, Blancpain GT World Challenge America competitors will receive increased overall track time (six hours) on condensed three-day race weekends with two 90-minute SprintX races. All 2019 GT races will feature tire changes, refueling and driver changes for an exciting pit stop.
In addition, Blancpain GT World Challenge America races will be the featured headliner on doubleheader weekends kicking off at Circuit of the Americas (COTA) on March 1st – 3rd. Following COTA, the GT calendar includes VIRginia International Raceway on April 26-28, Canadian Tire Motorsport Park on May 17-19, Sonoma Raceway on June 7-9, Watkins Glen International on Aug. 30-Sept. 1, Road America on Sept. 20-22 and a grand finale set for Oct. 18-20.
"We have seen the success for the GT3 competition with the SRO throughout the world," said Greg Gill, president and CEO of SRO Motorsports America. "Our GT racing in 2018 was outstanding and we believe the extended track time for the GT3 competitors will be to their liking. It opens up the possibility of more drivers and teams in 2019. We are exploring a number of exciting marketing partnerships to enhance the overall experience and bringing value to all involved."
"We have already noticed the interest in the GT class has been high for 2019 with the new, extended race format," said Staci Langham, GT class manager. "We have talked with many of our current teams and manufacturers as well as several new participants looking to compete next year. We have seen great momentum in GT and look forward to announcing several teams and drivers for the 2019 championship in the near future."