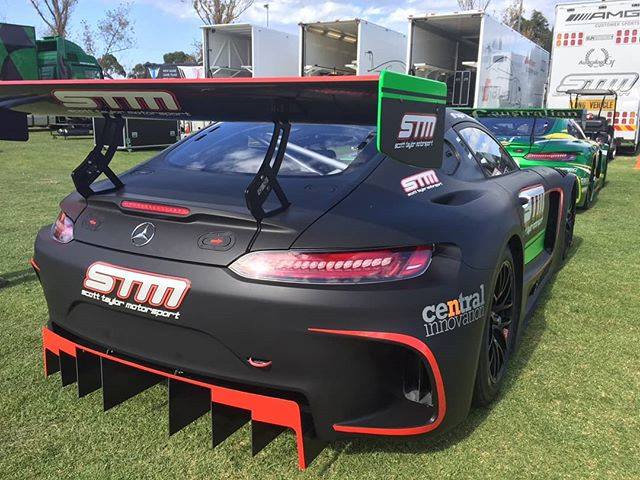 Craig Baird says he has his mojo back after winning the first of four races in the opening round of the CAMS Australian GT Championship at Albert Park today.
Driving the Scott Taylor Motorsport Mercedes-AMG GT3, Baird led from the start, pegging out a three-second plus lead over his esteemed rivals before the race finished under safety car conditions.
The precautionary period came about when Wayne Mack spun his Trophy Class Ferrari 458 out of the final corner on Lap 5.
Second went to Giancarlo Fisichella in the Maranello Motorsport Ferrari 488 with Marcel Fassler third in the Jamec Penn Audi R8 LMS.
Fassler was hounded throughout by Tony D'Alberto in the WM Waste Management Mercedes.
Throughout the opening laps, with Dan Gaunt (Audi) forced to pit due to a cut tyre in the opening melee, the top four had a gap to the next three, consisting of John Martin (Porsche 911 GT3-R), Dean Canto (Lamborghini Huracan) and Steven Richards (BMW M6).
In eighth was the Dom Storey (Mercedes) ahead of debutant Jaie Robson (Mercedes) and Fraser Ross (McLaren 650S).
Eleventh and first in Trophy was Nick Kelly, with three places (behind the Tony Quinn McLaren and the Ash Samadi Audi) back to class rivals John Morriss (Porsche GT3-R), Matt Stoupas and Rio Nugara in their Audis.
Jeremy Grey (Aston Martin) dominated GT4, finishing 23rd outright and several places ahead of Xavier West (BMW M4), Mark Griffith (Ginetta) and Justin McMillian (KTM X-Bow).
DRIVER QUOTES
Craig Baird: "With those two behind, Le Mans and Formula 1 winners I was motivated to want to win. I set my mind to do 11 qualifying laps, broke the lap record and did all I could do."
Nick Kelly: "These are such great guys to race with and I could ask for more than be the first Aussie driven Audi home. I have to thank Bart Mawer (driver coach) and Geoff Forshaw who does all the work on the car by himself."
Jeremy Grey: "We were well under in weight in qualifying two, and I thought that may be a problem, but we actually went faster in the race than in either qualifying. I didn't get to see any of my class rivals and it is good to be the first GT4 winner."
Race Results: Race 1 (9 laps)
1 Craig Baird (Mercedes AMG GTS) CH 21:32.0840
2 Giancarlo Fisichella (Ferrari 488) CH 9 21:32.7023
3 Marcel Fassler (Audi R8 LMS) CH 9 21:33.5759
4 Tony D'Alberto (Mercedes AMG GTS) CH 21:34.1227
5 John Martin (Porsche 911 GT3-R) CH 21:36.3632
6 Dean Canto (Lamborghini Huracan) CH 21:37.2062
7 Steve Richards (BMW M6 GT3) CH 21:37.7643
8 Dominic Storey (Mercedes AMG GTS CH 21:38.4951
9 Jaie Robson (Mercedes AMG GTS) CH 21:39.5183
10 Fraser Ross (McLaren 650S) CH 21:40.4168
11 Nick Kelly (Audi R8 LMS Ultra) TR 21:41.7320
12 Tony Quinn (McLaren 650S) CH 21:42.1344
13 Ash Samadi (Audi R8 LMS) CH 21:42.9231
14 John Morriss (Porsche GT3-R) TR 21:44.7151
15 Matthew Stoupas (Audi R8 LMS Ultra) TR 21:45.5277
16 Rio Nugara (Audi R8 LMS Ultra) TR 21:46.6336
17 Daniel Stutterd (Porsche 991 GT3 Cup) TR 21:48.2138
18 Michael Loccisano (Porsche 991 GT3 Cup) TR 21:49.2605
19 Shane Barwood (Porsche 991 GT3 Cup) TR 21:50.1854
20 Sam Fillmore (Porsche 991 GT3 Cup) TR 21:50.9061
21 Dale Paterson (Chevrolet Camaro) TR 21:51.9093
22 Jan Jinadasa (Lamborghini LP560) TR 21:52.8967
23 Jeremy Gray (Aston Martin Vantage) GT4 21:54.4504
24 Luke Seidler (Porsche 991 GT3 Cup) TR 21:55.7920
25 Joseph Ensabella (Porsche 997 GT3 Cup) TR 21:56.6905
26 Nick Karnaros (Porsche 997 GT3 Cup TR 21:57.5422
27 Daniel Gaunt (Audi R8 LMS) CH 21:57.9317
28 Xavier West (BMW M4) GT4 21:59.4135
29 Mark Griffith (Ginetta) GT4 8 laps
30 Justin McMillan (KTM X-Bow)) GT4 8 laps
DNF Wayne Mack (Ferrari 458) TR 4 laps
Fastest Lap: Craig Baird 1:54.7311 (New Lap Record)