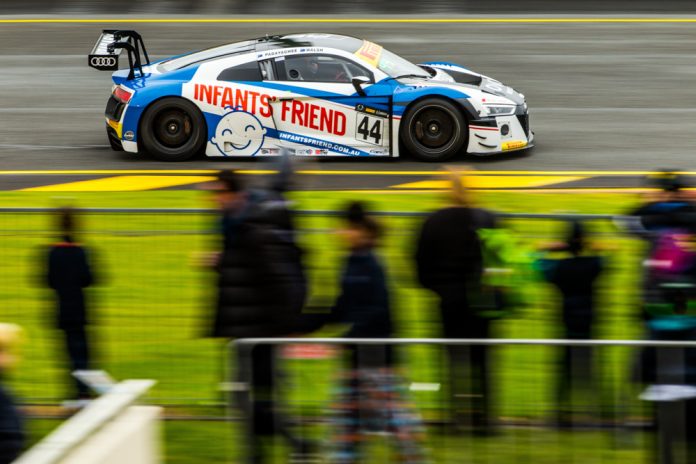 Ash Walsh and Duvashen Padayachee will start from pole position for the opening CAMS Australian GT Championship race of the weekend at Sandown after logging the fastest time in qualifying.
Two qualifying sessions welcomed drivers to the 2017 season finale, with Walsh setting the fastest time in the Supabarn Supermarkets entry late in the first session.
Conditions deteriorated ahead of Qualifying 2, which was shorted after Padayachee aquaplaned on the back straight soon after the session opened.
It saw the session declared, making the grid order the result of the opening qualifying session.
Alongside Walsh will be Audi stablemate Geoff Emery in the Valvoline Jamec Pem Racing entry, the duo closing the gap to Championship leader Liam Talbot who could manage no better than third.
It sees Talbot's lead reduce from 28-points heading into the weekend to 27-points over Emery, while Walsh has closed in by three points.
Max Twigg, who also remains in the Championship hunt, will start from the rear of the grid after he was caught speeding in pit lane, setting up a exciting chase through the field for the WM Waste Management entry in tomorrow's opening race.
The day's running took place under leaden Melbourne skies, which threatened during opening practice as Fraser Ross set the fastest time in the Total Opticoat McLaren 650S GT3 on a dusty circuit.
Light rain then doused the circuit for Qualifying 1, though conditions improved throughout the 20-minute session which saw Walsh claim pole as the chequered flag flew.
A spin for Talbot saw the Mega Racing Porsche 911 GT3-R draw a red flag mid-way through, the Championship leader fortunate to avoid damage as he skated across the wet grass though ended the session third fastest.
An impressive showing from Steve Richards saw the BMW Team SRM entry fourth fastest, ensuring a second-row starting spot for he and co-driver James Bergmuller.
Fraser Ross ended the day in fifth, with the Pirelli/Trofeo Motorsport Lamborghini of Ryan Millier and Jim Manolios rounding out the third row.
Three 40-minute races following tomorrow (September 16) as the battle for the 2017 CAMS Australian GT Championship races towards an exciting climax.
Race 1 begins at 0830 with two races set to follow throughout the day, all of which will be broadcast live on Fox Sports, Channel 506.
Image rights free for editorial
Round 5: Race 1 Starting Grid
Pos Competitor/Team Driver Vehicle Q1 Time
1 Supabarn Supermarkets Ash Walsh/Duvashen Padayachee Audi R8 LMS 1:16.380
2 Valvoline Jamec Pem Geoff Emery Audi R8 LMS 1:16.871
3 Mega Racing Liam Talbot Porsche 911 GT3-R 1:17.369
4 BMW Team SRM Steve Richards/James Bergmuller BMW M6 GT3 1:17.889
5 YNA Autosport Fraser Ross McLaren 650S GT3 1:18.318
6 Pirelli/Trofeo Motorsport Ryan Millier/Jim Manolios Lamborghini Huracan GT3 1:19.035
7 Valvoline Jamec Pem Steve McLaughlan Audi R8 LMS 1:19.321
8 Ah Apartments Ash Samadi Audi R8 LMS 1:19.841
9 Hogs Breath Café/Griffith Corporation Mark Griffith Mercedes-AMG GT3 1:21.777
10 Darrell Lea Tony Quinn McLaren 650S GT3 1:22.042
ROG WM Waste Management Services Max Twigg Mercedes-AMG GT3 1:21.708