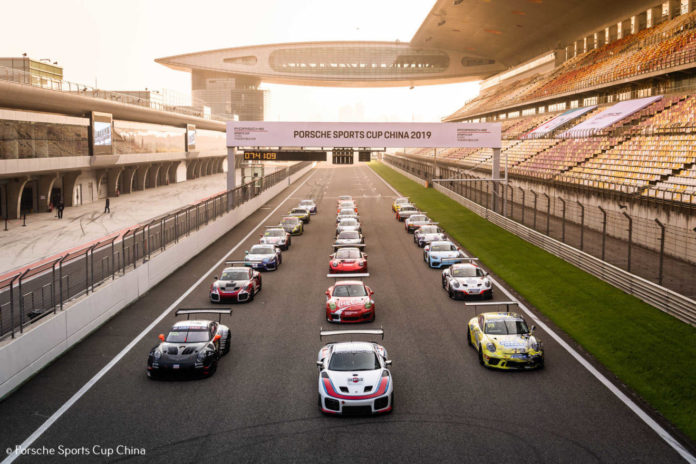 On 21 April 2017, Porsche Motorsport Asia Pacific was launched at the Auto Shanghai motor show by Alex Gibot, Jacky Ickx, Earl Bamber and Porsche Motorsport sales director Uwe Brettel. Three years later, the Gibot-managed office is mixing it with motorsport's major players. Porsche Carrera Cup Asia, established in 2003, remains its base, but the portfolio of the Shanghai-based outfit has significantly developed.
"When I look back, it is clear we have drastically moved forward in these past three years," Gibot told Endurance-Info. "We wanted to be the point of contact for Porsche Motorsport in the Asia-Pacific region, to link Weissach and our local clients to get closer to our teams and drivers. Although the current situation with the COVID-19 outbreak is complicated, we still have a few on-going projects and are continuing to push for new activities. When we started, we had just one cup series and a few GTs. Now, in addition to Porsche Carrera Cup Asia, we have the Sprint Challenge China, Sprint Trophy Thailand and Sprint Challenge Asia for GT2s, GT3s and GT4s. The options are much more varied."
It was not long before success arrived after the office was set up, with JRM taking the first GT3 win in the China GT Championship with Li Chao and Chris van der Drift's Porsche 911 GT3 R. Customer interested quickly grew as well, with 11 of Porsche's title-winning GT3 model expected on the grid for this year's original GT World Challenge Asia Powered by AWS season opener in Sepang.
Porsche Motorsport Asia Pacific's goal has been to develop customer relations in the region, which has a short history in motorsport: "One of our objectives is to follow teams into new projects, such as with KCMG and their Nürburgring 24 Hours programme for 2020, and the HubAuto/APM Monaco Proton Competition Porsche at last year's Le Mans. We had cars in Pro-Am at the Total 24 Hours of Spa in 2019 and we hope to do so again this year. We were also involved with customers contesting the FIA Motorsport Games and the FIA GT World Cup in Macau.
"But we mustn't become complacent," the former Porsche Carrera Cup France manager added. "This is just the beginning. There is still a lot to develop, especially the GT4 and GT2 models. We need to promote these two entry-level products and offer them in dealerships, as well as push the track day and Sprint Trophy platforms. Maintaining Porsche Carrera Cup Asia is a must as it acts as the backbone of Porsche Motorsport Asia Pacific."
It was not long before the office was recognised on the international scene, with Earl Bamber Motorsport's Porsche 911 GT3 R taking the 2019 Bathurst 12 Hour win, and Absolute Racing clinching pole in the 2020 edition of the Mount Panorama enduro. Now it is KCMG's turn to represent Porsche Motorsport Asia Pacific at the Nürburgring 24 Hours as programmes far beyond the region continue to be developed.
"Supporting our customers in the Intercontinental GT Challenge is very important to us," Gibot affirms. "We are very happy with our achievements so far and we hope it is a sign of things to come. The 2019-spec Porsche 911 GT3 R was a breath of fresh air that prompted new customers to sign up. Support starts right at the beginning as we recommend to new clients that they send at least one engineer and mechanic to Weissach to learn the car. It's important to meet the people who manufacture their racing machine. This is also the case for other models in our range, even if the training is provided in Asia. Our local manager is trained in Germany so we can provide the information for the GT2, GT4, GT3 Cup, and 935. 
Porsche is the only manufacturer which has invested in regional offices made up of more than 10 people, with departments in Europe, the US and Asia-Pacific, and at least one support engineer and performance engineer attend race meetings.
Last year, Porsche Motorsport Asia Pacific supported the Proton Competition Porsche 911 RSR entry of father/son combination Philippe and Louis Prette and Vincent Abril at the Le Mans 24 Hours, with a return to the famous French event already on the cards: "We're planning to go back to Le Mans in 2021 with a 100% Asian team in the new 911 RSR. The new car is providing opportunities for us to establish a proper race programme. This year, our focus is on IGTC and N24, but in 2021 we hope to have a car in an ACO championship, either WEC or ELMS with a clear objective of retuning to Le Mans. We have the capacity to create a programme with gentlemen drivers, supporting them from the 718 Cayman GT4 Clubsport right up to the 911 RSR. We have solutions for all levels of experience."
But could Asian Le Mans Series also provide a potential route? "Each year we try to implement a programme, and we have had entries there in the past. A Chinese team had planned to enter the last two rounds of the 2019/20 season. The car had been delivered but the current health situation prevented it coming into fruition, and the 911 GT3 R has since been acquired by Earl Bamber Motorsport as a third chassis. Of course, I was very excited at the prospect of seeing a Porsche in Asian Le Mans Series again. We are going to work very hard to make sure this will happen next season to fight for the title and score an invitation to Le Mans."