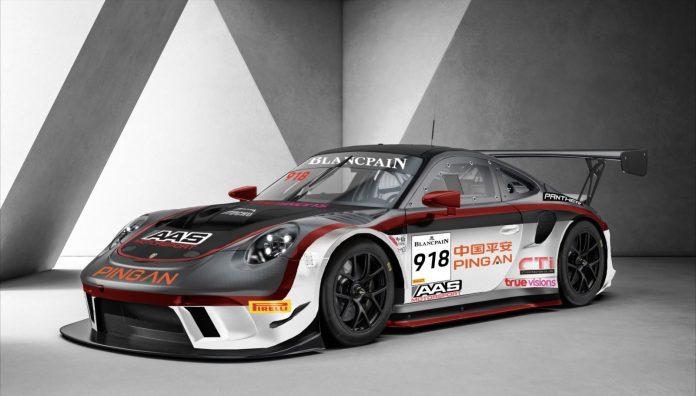 Absolute Racing will add a third Porsche 911 GT3-R entry to its participation in the 2019 Blancpain GT World Challenge Asia. Vutthikorn Inthraphuvasak and Alexandre Imperatori will share the driving duties in the #918 Panther / AAS Motorsport Porsche 911 GT3-R entry.
2018 Thailand Super Series (GT3 Class) Champions AAS Motorsport by AAS AUTO SERVICE Co., Ltd., the sole authorized importer and distributor of Porsche and Bentley cars in Thailand, will take on a new challenge with Vutthikorn Inthraphuvasak and Alexandre Imperatori joining forces for the first time in the highly competitive Pro-Am class.
Vutthikorn Inthraphuvasak, a very experienced Bronze driver from Thailand, is no stranger to the team or the series, where he did two appearances in 2017. Switzerland's Alexandre Imperatori has nothing but good memories of Absolute Racing; the team behind his 2012 Porsche Carrera Cup Asia title.
Alexandre Imperatori had a first taste of driving the 2019 Porsche 911 GT3-R (2019) earlier this month at a private test at Sepang, and Vutthikorn Inthraphuvasak will have his first contact with the car this week. The extensive pre-season testing programme prior to the opening round of this year's 12-race schedule will continue in the coming days at the 5.543km FIA Grade 1 Malaysian track designed by Hermann Tilke.
The Blancpain GT World Challenge Asia, formerly the Blancpain GT Series Asia, features a 6-round, 12-race calendar with events in Malaysia, Thailand, Japan, South Korea and China.

Quotes:
Vutthikorn Inthraphuvasak: "I'm really happy to bring AAS Motorsport to the most competitive GT series in Asia. We've been Thailand Super Series Champions in 2018 but we'll have to work even harder this year to try to achieve our goals. Absolute Racing is a fantastic team and the Porsche a very competitive car. I think we've got a very strong pairing and I can't wait to get started."
Alexandre Imperatori: "I'm really excited about the new season ahead. Vutthi will be one of the best Bronze drivers on the grid and an excellent partner. We have a great relationship and having him on-board for the full season gives us a strong chance of getting consistent results. The new Porsche is one of the best GT3 cars I ever drove and I know that the team are capable of winning the championship. I can't wait for the season to get underway."
Fabien Fior (Team Director of Absolute Racing): "We are really happy to welcome Panther/AAS Motorsport to the Blancpain GT World Challenge Asia this season. It's going to be a whole new challenge but we have a strong and motivated team. Some of our drivers have already sampled their first taste of the Porsche at Sepang and could definitely feel the potential within the car. I'm sure that Vutthi and Alex will make really good team-mates and we'll be strong contenders for the championship."
Alex Gibot (Head of Porsche Motorsport Asia Pacific): "We're delighted to have a fifth 2019-spec Porsche 911 GT3 R on the Blancpain GT World Challenge Asia grid. Two great teams in the form of Absolute Racing and Panther/AAS Motorsport working together is a hugely exciting prospect. Having the 2012 Porsche Carrera Cup Asia champion Alexandre Imperatori alongside Vutthikorn Inthraphuvasak, who was also very successful during his time in the Porsche Carrera Cup Asia series, means we have a formidable line-up."