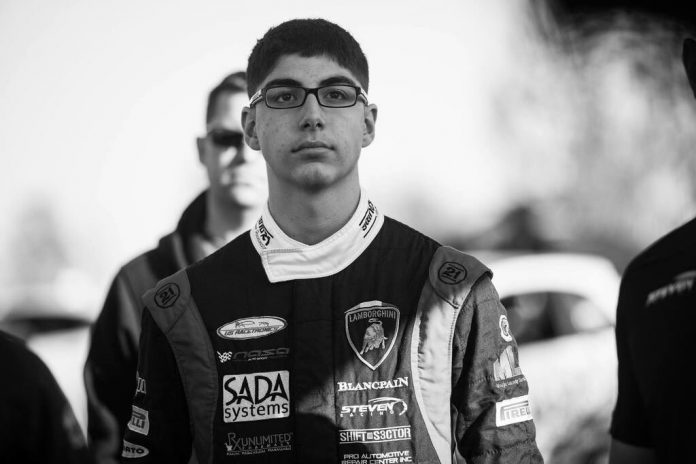 Steven Racing announces that its youngest driver, Steven Aghakhani, will be competing at the second annual 'California 8 Hours,' which is the final round of the GT3: Intercontinental GT Challenge on October 26-28, 2019 and closes out the campaign, which began in February at the Liqui-Moly Bathurst 12 Hour.
In addition to competing for the Intercontinental GT Challenge honours, the GT3 category will allow entries from a variety of different cars and teams, including Ferrari squads bringing their 488-GT3, the Italian "dream machine," Lamborghini teams from both coasts. The race has already received great response and will be attended by both European and U.S. based teams.
"Knowing that this race could become one of the most profelric stops in the Intercontinental GT Challenge circuit, I'm really looking forward to facing some true talent and some of the best sports cars from all over the world," said Steven Aghakhani. "I've continued to push myself this season and know that my hard work and determination will prove to help me come out on top."
2018 has continued to be a promising year for the young driver. Most recently, US Racetronics announced that Aghakhani secured a FIA Pro license and will be active on his 16th birthday on April 12, 2019. Earlier this year he was awarded the first Huracan Super Trofeo Evo with the request to compete in the IMSA Lamborghini Super Trofeo Series. From March to August Aghakhani blazed a trail as champion, securing first place title at the NASA and SCCA pro series southern region championship.
Among Aghakhani's ongoing accolades he and his team also launched a charity called "Race for a Cause," which raises money for programs in local schools while teaching kids the safety and fun of the racetrack.
For some background on his career, Aghakhani started racing go-karts when he was seven years old after spending time at the race track with his father, Armik Aghakhan, who was also an avid racer and car collector. When Steven was ready to move from go-kart racing to exotics, he began training with the 2013 Formula Drift Champion. Steven was named US RaceTronics' development driver at the age of 13 and has set record speeds for his age.