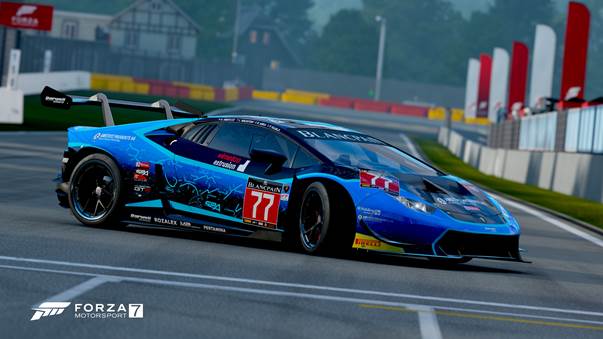 Barwell Motorsport is delighted to announce that the winner of our Spa 24 Hours Lamborghini Huracan GT3 livery design competition is Kerry Hayes, from Richwood, Kentucky in the USA – with his 70th Edition of Spa 24 Hours celebratory concept.
Kerry's brilliant design is shown here, now complete with the final team and sponsor logos ready to be put onto our #77 car. Kerry really embraced everything that we wanted to see in the design, and its uniqueness will certainly stand out amongst the 60+ cars entered for this great event.
We were really impressed with the standard of all the designs sent in – both from adults and children alike, and would like to say a huge thank you to everyone who took the time to enter the competition – you really made the judges' job hard! We will shortly be featuring our top 10 favourites on social media, so please look out for those.
Kerry's design was painted in Forza Motorsport 7, and he is a member of the PTG race team (the Pendulum Tuning Garage) in the Forza series, with the Xbox Gamertag of PTG Wildcat.'