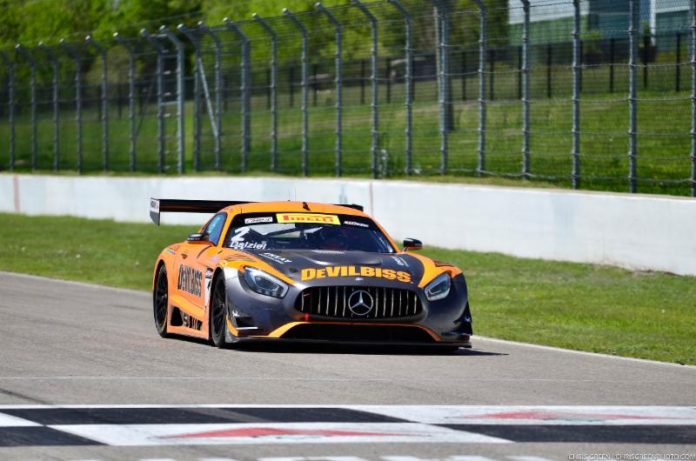 As CRP Racing prepares for the final three races in the Pirelli World Challenge SprintX championship, the team is proud to welcome new sponsor Service King Collision to the No. 2 Mercedes AMG GT3 for the Grand Prix of Texas. Circuit of the Americas (COTA) will host the triple header weekend at its world-class facility, just outside of Austin, Texas.
"We are excited to be partnering with a local company for this weekend's events," said CRP Racing owner Nicholas Short. "Our hearts are with Texas during this time, and we're proud to be working with a Texas-founded company during such an important weekend."
Based in Dallas, Texas, Service King Collision is a leading national operator of comprehensive, high-quality repair facilities, with 24 locations across the United States. In addition to providing the utmost quality in collision repair, Service King provides training and recruiting initiatives in an effort to give back to and strengthen the industry.
Torrential rain at Canadian Tire Motorsport Park canceled Round 4 of the SprintX championship earlier in the season, moving the make-up round to this weekend's festivities at Circuit of the Americas. With a 2017 win already under their belts, drivers Ryan Dalziel and Daniel Morad sit third in the SprintX driver championship. Three 60 minute races will be completed this weekend, leaving the SprintX championship battle wide open.
"We've not been able to find the speed from our Mercedes AMG GT3 in recent events," said full-time driver Ryan Dalziel. "I'm hoping COTA favors our package and we can be strong from the minute we unload. The absolute main goal this weekend for the whole Pirelli World Challenge paddock needs to be showing support for the families and state of Texas."
"We need consistent podium results in order to have a shot at the championship," said co-driver Daniel Morad. "If we can maximize our personal performance as a team, I'm confident a good result will be waiting for us on the other end of the checkered flag."
While the areas surrounding Houston, Texas continue to be ravaged from Hurricane Harvey and its ongoing aftermath, the Pirelli World Challenge has decided to continue the event, and encourage all fans and series participants to donate to the American Red Cross via redcross.org.
"I have mixed feelings about going to compete with the recent tragic and devastating events," said Dalziel. "However, I'm hoping we can bring some joy and distraction to the people of Texas, at least for a few hours of their weekends. My thoughts and prayers are with all the families affected."