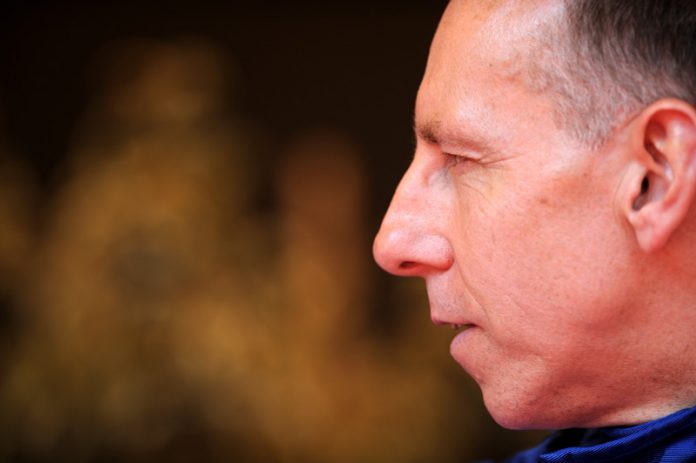 30 years ago , Jaguar succeeded in defeating Porsche, #2 XJR9-LM driven by Andy Wallace, Johnny Dumfries and Jan Lammers, winning the 24 Hours of Le Mans.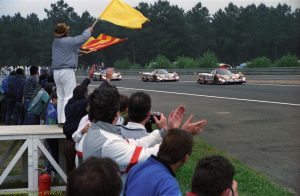 Andy Wallace, who has one of the most famous records in endurance racing – Le Mans once, Sebring twice Daytona three times- has kindly agreed to answer a few questions about this 1988 race :
How did you join Tom Walkinshaw Racing ?
"After winning the British F3 Championship and the end of season Macau Grand Prix I was finding it impossible to raise the budget to progress to F1. Fortunately I got a call from TWR asking me if I would be interested in joining the team for the 1988 season. I was invited to a test session at Le Castellet in the South of France for an evaluation. The test went very well! And I was offered a place in the team for selected races including Le Mans."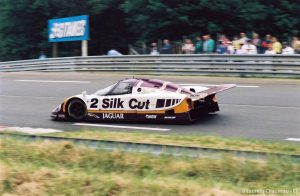 1988 was your first year in prototype racing and you had raced only once before Le Mans, being runner-up at Jerez with John Nielsen and John Watson. So, were you afraid to be lacking of experience for an endurance race like the 24 Hours ?
"My first prototype race was actually in Malaysia in 1987 in a C2 car. Then in 1988 I raced for Jaguar in Jerez and also Road Atlanta before Le Mans. Yes, I was lacking experience in endurance racing but the team and also Jan Lammers & Johnny Dumfries were very supportive and helped me to make the transition from single seater racing. It was an amazing experience to be driving for such a top team. I quickly learned how to cope with the performance of these prototype cars, but I was very aware of the enormous task ahead and the responsibility of driving for a manufacturer team."
How did Tom Walkinshaw choose the five Le Mans line-ups ? Was it for a matter of driving style ?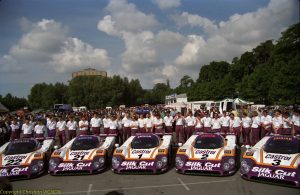 "I think Jan & Johnny were at least partly responsible for me being in their car for the 24 hours. I had raced against Jan in Macau before, and we immediately gained respect for each others driving."
Had the three of you been testing together before Le Mans ?
"Yes, in Le Castellet, Jerez, Road Atlanta and Silverstone."
The works Porsches had been much quicker than the XJR-9s during the qualifying session ? Had you been conservative during the sessions ?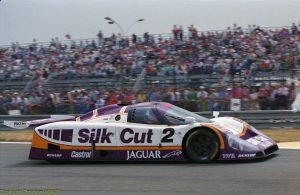 "No. The Porsches were able to run more turbo boost in qualifying (than in the race, due to the fuel allocation rules), and we could do nothing with our atmospheric V12. But we used the sessions to perfect the set-up and make sure we were all comfortable in the car." 
Your #2 Jaguar had been leading the race most of the time. Was it a matter of circumstances ? What was the TWR strategy for the 24 Hours ?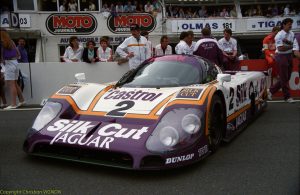 "There wasn't really a strategy that favoured one car over the others. I think our car set-up was perhaps slightly different, but only to driver preference."
Two Jaguars had to retire, so did Tom Walkinshaw give you special instructions for the end of the race ?
"We were given freedom to run our own race, but after two of the five team cars retired, we were all very aware that we must not make any mistakes…!"
The Stuck/Bell/Ludwig was very close to your Jaguar. So, were you all of you flat out in the last hours ?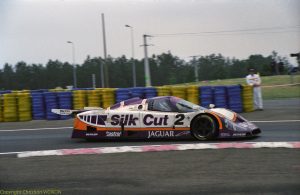 "We were running as fast as we could while at the same time trying to be mechanically sympathetic to the car."
You are one of the happy few who have been winners at Le Mans for their first race. Was it something really special ?
"Yes it was, but to be honest, to win Le Mans is such a special feeling that I forgot is was my first race there."
You have won Le Mans once, Daytona three times and Sebring twice. Which of the win do you prefer and why ?
"All endurance race wins are special. Daytona and Sebring are legendary races but Le Mans is the big one!"
Will your race, as in the previous meetings, in Le Mans Classic next July ?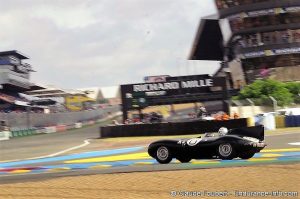 "At the moment, I am not planning to race at Le Mans Classic this year, but that might change. I really enjoyed the 2014 & 2016 events there."